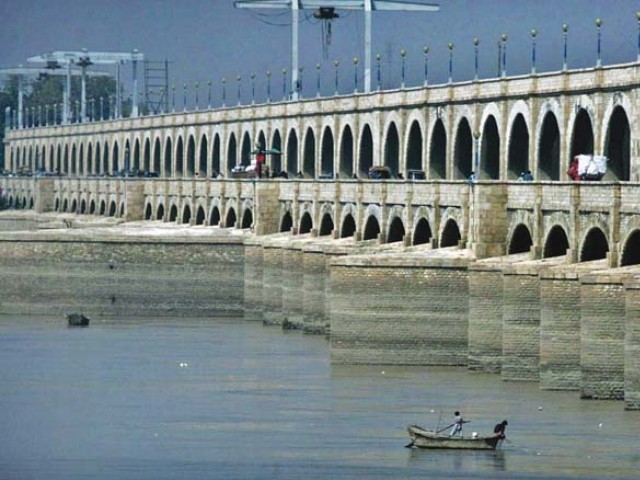 ---
SUKKUR: All three barrages of Sindh - Guddu, Sukkur and Kotri - are facing 40% water shortage, despite all three off-taking canals of the Guddu Barrage and three right-pocket canals of the Sukkur Barrage being closed for April. Irrigation authorities have advised growers to opt for late sowing of kharif crops to avoid water shortage.

Due to low rainfall in the catchment areas last year, the main reservoir of the Tarbela Dam was not filled to its full capacity and as a result it reached its dead level last month, which is 1,380 feet. Authorities started operating it on a run-of-the-river basis. Irrigation authorities are also blaming the meteorological department for its wrong and misleading weather forecasts, claiming that comparatively more rains were expected during the monsoon season of 2016, due to which authorities delayed filling the dams.

Sukkur Barrage Control Room incharge Abdul Aziz Soomro said on Sunday the pond level at the Tarbela Dam was 1,391.06 feet and the inflow was 30,400 cusecs and outflow 25,000 cusecs. The upstream at the Guddu Barrage was 34,283 cusecs and as all its off-taking canals, including the Ghotki feeder, Pat Feeder and Begari are closed, the same volume of the water is being released in its downstream.

Climate change impact: Per capita water share falls to 1,032 cubic metres

According to him, at the Sukkur Barrage the upstream was 28,115 cusecs, of which 20,765 cusecs of water was being released in its left pocket canals, while all three canals in the right pocket have been closed for a month. Similarly, 6,350 cusecs of water is being released in its downstream. The Kotri Barrage is receiving 2,945 cusecs of water but no water is being released in its downstream.

Soomro said that due to last week's rainfall in the catchment areas, the pond level at the Tarbela Dam has risen from 1,380 feet to 1391.06 feet, due to which the water situation at all the three barrages has improved a little but a shortage of 40% is still being faced. "If no more rainfall occurs in the coming days, we might face an acute water shortage till June," he warned. Though the kharif season is going to start from April 15, during which key crops of cotton, sugarcane and paddy is sown, we have advised growers to sow these crops in May due to the water shortage, explained Soomro.

Retired chief engineer at the irrigation department and an expert on water issues, Noor Mohammad Baloch, told The Express Tribune that he held both the Water and Power Development Authority (Wapda) and Indus River System Authority (Irsa) responsible for the recent water shortage. He also raised an accusing finger at the Sindh government that failed to deal with the situation.

Shortages galore: 'Insane, unsustainable policies' behind water crisis, says Senators

According to him, all the water reservoirs are meant for providing water for irrigation purposes, which is a top priority while producing electricity is secondary. "Irsa wanted to fill the dams and Wapda wanted to produce more electricity to minimise load-shedding and thus more water was utilised for producing electricity," he said. "Besides this, the Sindh government should have sensed the gravity of the situation but it didn't. Resultantly, today we are 40% short of water for irrigation purposes. Let's hope for more rains in the catchment areas, which is the only solution to our problem."
COMMENTS
Comments are moderated and generally will be posted if they are on-topic and not abusive.
For more information, please see our Comments FAQ