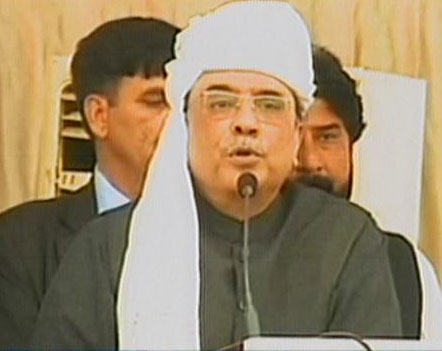 ---
QUETTA: The Baloch youth must lay down arms and join mainstream politics as Balochistan has suffered a lot as a result of insurgency, PPP Co-chairperson Asif Ali Zardari said on Friday.

He was addressing a public meeting organised to mark the 50th death anniversary of a Pakistan Movement leader, Mir Jaffar Khan Jamali. The meeting was also addressed by Mir Changhez Khan Jamali.

"We want the inclusion of the Baloch youth in the national mainstream … We simply cannot allow militancy to waste them away," Zardari said.

Warning the federal government against committing further 'injustices' to the people of Balochistan, he said if this was not done immediately, the old would join the young in taking to hills to fight the government.

Reiterating Balochistan's demands regarding the ongoing census, he said injustice should be avoided during the headcount process.

Blaming late Nawab Khair Bakhsh Marri and Nawab Akbar Bugti for having wrought a disaster on Balochistan, he said their rigidity and unyielding stance over issues had deteriorated the situation that could have been amicably resolved.

Next PM from PPP, predicts Zardari

Zardari said he identified himself as a Sindhi yet he was a Baloch by birth and therefore he could sympathise with the oppressed people of both Sindh and Balochistan.

He reminded that he had surrendered all his powers to parliament, adding that he had strengthened parliament. "The parliament is now more powerful than the office of the president," he said.

According to him, foreign investors had previously been scared of investing in Pakistan, but now China was making significant investments in the country.

Zardari issues decree imposing governor's rule in Balochistan

He voiced hope that the PPP would form the next government in Balochistan with the cooperation of its political allies.

Siraj Durani, former Sindh Chief Minister Syed Qaim Ali Shah, Mir Ijaz Khan Jhakrani also accompanied Zardari during his visit to Naseerabad.
COMMENTS (2)
Comments are moderated and generally will be posted if they are on-topic and not abusive.
For more information, please see our Comments FAQ