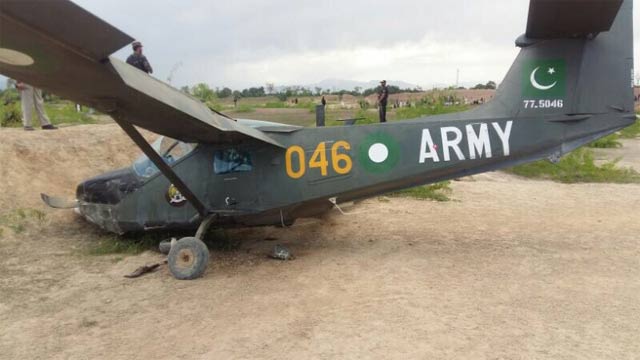 ---
PESHAWAR: Pakistan Army's Mushshak aircraft crash-landed in Painda Khan village of Mattani on the outskirts of Peshawar on Thursday.

Police said the trainer aircraft was on a routine flight when it's engine developed a technical fault, and the pilot had no option but to crash-land.

Speaking to The Express Tribune, another security official said the pilot remained safe, with only a little damage to the aircraft.

Two killed as training aircraft crashes in Faisalabad




"The pilot managed to land in a deserted area, which caused minor injuries. However, is in shock as a result of the crash-landing. Police rescued him from the airplane and shifted him to the police station," said the official, adding that the aircraft belonged to Pakistan Army aviation and there was only one pilot in it.




In February, a Shaheen Air Flying Training School aircraft crashed in Faisalabad, killing the instructor and the trainee pilot. The aircraft was completely destroyed as a result of the crash.

Similarly in December 2016, Pakistan International Airlines (PIA) flight, which was en route to Islamabad from the northern city of Chitral crashed near Abbottabad. All the 48 people on-board were killed.
COMMENTS
Comments are moderated and generally will be posted if they are on-topic and not abusive.
For more information, please see our Comments FAQ