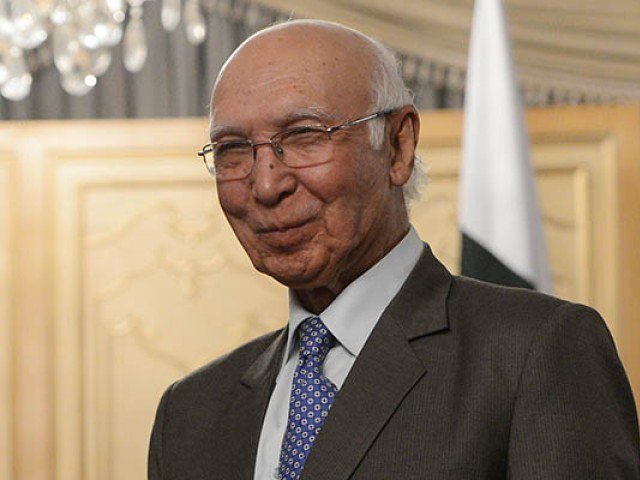 ---
ISLAMABAD: Prime Minister's Adviser on Foreign Affairs Sartaj Aziz on Monday said there was no military solution to the lingering Afghan war and hence called for the resumption of what he said 'Afghan-owned and Afghan-led' peace process to end the conflict.

Talking to the 14-member Afghan delegation, which is currently on a visit to Pakistan, the adviser termed terrorism as the common enemy urging close cooperation and meaningful engagement between the two countries in the areas of security, counter-terrorism and border management for preventing cross-border movement of terrorists.

According to the Foreign Office, Aziz said that relations between "our two brotherly countries were rooted in common history, religion, culture and people-to-people ties."

He added that like their past, Afghanistan and Pakistan also shared their destiny. "It is, therefore, important that the two countries closely work together for dealing with the common challenges and pursue the welfare and progress of the people."



Afghan parliamentarian backs Durand Line as border

Reiterating Pakistan's desire for lasting peace in Afghanistan, Sartaj said that there was no military solution to the conflict in Afghanistan and the focus should be on political settlement through an Afghan-owned and Afghan-led peace process.

In this regard, he highlighted serious efforts made by Pakistan for peace talks between the Afghan government and Taliban adding that cooperation between the two countries was important for promoting peace and reconciliation in Afghanistan.

Meanwhile, Pakistan and Afghanistan agreed for early implementation of the bilateral cooperation mechanism recently agreed between the two sides.

This came after meeting between Prime Minister's Special Assistant on Foreign Affairs Tariq Fatami and Afghan Ambassador Hazrat Omer Zakhilwal on Monday.

During the course of their "cordial exchanges," Fatami stressed over the importance of a peaceful, politically negotiated settlement as the best solution to the Afghan conflict.





Four missiles fired from Afghan border into Kurram Agency



In this context, he highlighted the serious efforts undertaken by Pakistan for facilitating an Afghan-owned and Afghan-led peace process.

Fatemi also emphasised that terrorism was a common threat that required cooperation between the two countries for elimination of this menace.Isl

Recalling the recent terrorist attacks in Pakistan carried out by JuA and TTP from the Afghan soil, he underlined the need for effective border management for preventing cross-border movement of terrorists.

Ambassador Zakhilwal thanked Fatami for the constructive exchanges while stressing the need for a meaningful institutional engagement between Pakistan and Afghanistan for addressing the common challenges and threats.