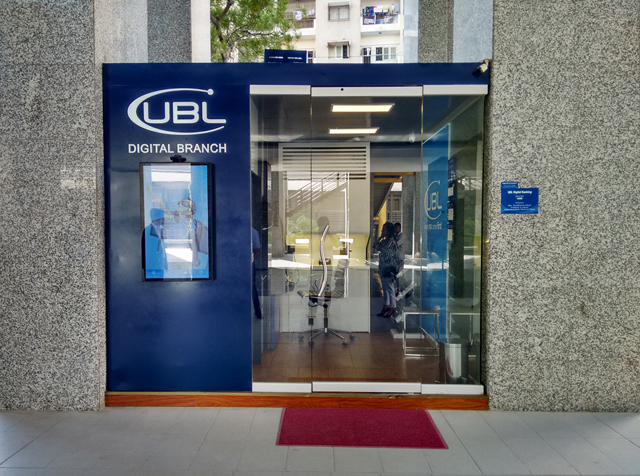 ---
In a country where technology is still in its nascent form, United Bank Limited (UBL) took the decision of launching a staff-less digital branch as a pilot project. Upon hearing of this project, I was sceptical; firstly about whether or not it was true, secondly about if it is exactly what I was told it was going to be.

In March of this year, the bank launched Pakistan's first digital branch at the Institute of Business Administration (IBA-City Campus), Karachi.

I got in touch with the management to allow me to come over and test the equipment first-hand and was immediately granted my wish. My visit was scheduled for the week after and had me substantially excited about the new technology I was about to be introduced to.




There were, after all, many questions racing through my mind, so before heading to digital branch, I sat with the team to discuss some questions I had with respect to the new technology.

Demonstrating what functions can be performed at a digital branch; it was explained to me that all basic functions of a bank can be performed the man-less branch too. Customers can open a new account, be issued a debit card and pre-activated cheques on the spot, and will also have the ability to check their account balance, withdraw and deposit cash and cheques, and conduct inter-bank fund transfers.




Impressed, I asked how about the future of the technology. Explaining how digital branches can prove to be a game changer in the banking industry, I was told how they are now able to open branches in any location across the country, with the option of running them virtually from a central location.

The potential scope of this project allows for digital branches to be planted in remote locations and disaster recovery sites in order to facilitate banking needs in dire situations.

As soon as this project was announced, some reports surfaced on the internet about how UBL was not the first bank to introduce a digital branch.

Responding to these claims, they told us that this project  marked the first time the State Bank of Pakistan (SBP) had issued a digital branch license to a bank functioning in Pakistan – allowing UBL to boast the first ever 'man-less' banking branch.

According to the staff, UBL is now looking forward to this revolution and plans to open at least five digital branches in Karachi this year, adding to branches in Lahore and Islamabad next year.

As I entered, I was reminded of the guidelines given to me by the people at the bank, having said that, I would like to clarify that there were no staff members present on location and no one intervened with the procedure, allowing me to have a go at it myself.




How it works

Once in the branch, I was greeted by a teller who was connected via video link. I was then asked to scan my fingerprint for biometric verification and to enter my 13-digit Computerised National Identity Card (CNIC) number.

After the verification, the teller guided me through the rest of the process, which included the gathering of basic information; name, mother's name, address etc. This part of the process included them supplying me with basic information about banking and inquiring about my preferences in regards to my new account. This seemed like a formality for someone like me, who is well-versed in banking procedures and jargon; however, it can prove necessary for people who have insufficient prior banking experience.




On the convenience of this procedure I had asked the team approximately how long it would take for me to open and account. I was informed that it usually takes a customer three days to open an account, but at the digital branch it takes roughly 20 minutes.

At the branch, I decided to test this theory. To my surprise, 40 minutes is the amount of time it took for me to get my account completely setup. I would, however, like to add that during the process, I was busy gathering information and taking photographs too.

My favourite part of the process, which was also the most convenient feature, was that I didn't have to wait ten days to receive my debit card; it was printed on the spot. I was also provided three pre-activated cheques which could be used as and when needed.

As of right now, however, only one customer is allowed inside the branch in order to maintain the standard of security required; forcing other customer(s) to wait outside the branch, possibly, for a long period of time. While I am certain the teething issues will be sorted out as time passes, at the moment, it does look like the bank has taken one step forward and two steps backwards.






While the bank's decision to start its state-of-the-art branch is a positive step towards digitalising the banking sector, I keep coming back to the same question: is this the right time to launch such an initiative?

Given the fact that only a handful of Pakistani banking customers are tech savvy enough to comprehend the complicated process of digital banking, in my opinion it would be imperative to first see how the product bodes with the masses.

With regards to setting up the man-less branch in remote areas, the purpose may not be served if the people are intimidated by fancy banks and buttons. Resistance and scepticism towards the digital branch from the masses may be the bank's most challenging task.

Like any other big project, this too will be further refined by user interaction and feedback. Whether this project will redefine banking or fail to make any significant impact on the country's banking industry, only time will tell.