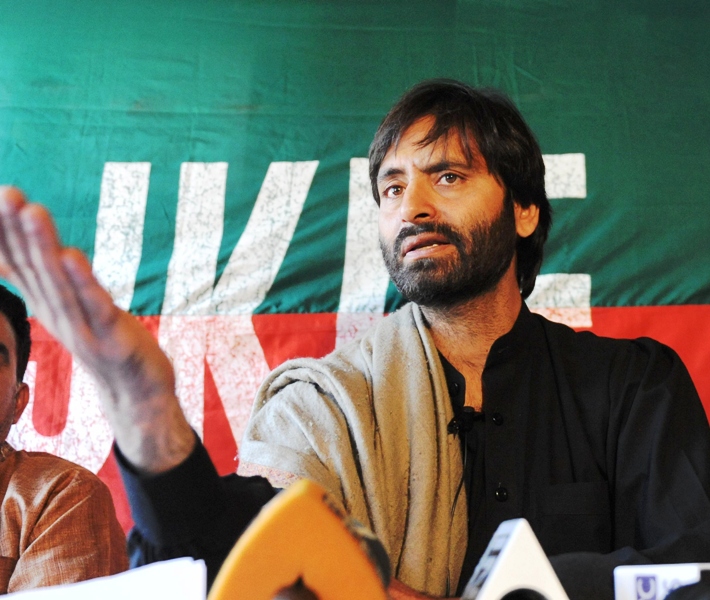 ---
ISLAMABAD: Chairman Jammu & Kashmir Liberation Front (JKLF) Yasin Malik on Monday criticised Indian Prime Minister Narendra Modi's address from a day earlier, given in Indian-occupied Kashmir, during which the Indian premier appealed to the Kashmiri youth to pick "tourism over terrorism."

"The statement of Indian prime minister that Kashmiris should choose between terrorism and tourism, and that the youth striving for freedom are misguided is absurd," said the JKLF leader in Srinagar.

Modi wants occupied Kashmir youth to choose tourism over 'terrorism'

He insisted that the "British ruled India for more than 200 years and during that period they developed the Indian infrastructure enormously. It was the British who developed the Indian railway system and irrigation canals that are still benefiting South Asia and if the standards of Modi Ji are to be applied then the British should never have left India either, and neither should Gandhi, Nehru, Subash Chander Bose, Baghat Singh and Moulana Azad have strived for the freedom of India."

Modi on Sunday urged the youth of Kashmir to choose tourism and development over terrorism, shortly after inaugurating a $574 million highway tunnel in the disputed valley.

"If tunnels and roads were a substitute for freedom and dignity, then the British should never have left India as they were the ones to have developed the Indian infrastructure enormously," said Yasin Malik in response to Modi's statements.

"People who sided with the British during the Indian freedom struggle can never understand the ethos of a freedom struggle or the psyche of freedom lovers," the Kashmir Media Service reported.

The Kashmiri leader continued that "our reply to Modi Ji is the same that was given by Gandhi Ji to a British envoy who had posed a similar question to him asking how a poor Indian could survive independently. Gandhi had replied that he would prefer a non-competent poor independent rule over a competent and wealthy forcibly controlled nation."

Hurriyat leader Yasin Malik held in Srinagar

Kashmir has been a troubled valley since the partition of the Subcontinent; both India and Pakistan claim it in full, both governing separate disputed parts. Post independence from the British, the two neighbouring countries also fought three wars, two of them over Kashmir.

The violence since July 2016, largely in the form of troops firing on civilian crowds with shotguns after protesters threw stones at Indian forces, has left more than 80 civilians dead and thousands of others wounded.

The Indian government has long tried wooing the local population, which demands freedom from Indian occupation as a separate state or a merger with Pakistan, with the promise of a better future through investment, job creation and infrastructure development.
COMMENTS (2)
Comments are moderated and generally will be posted if they are on-topic and not abusive.
For more information, please see our Comments FAQ