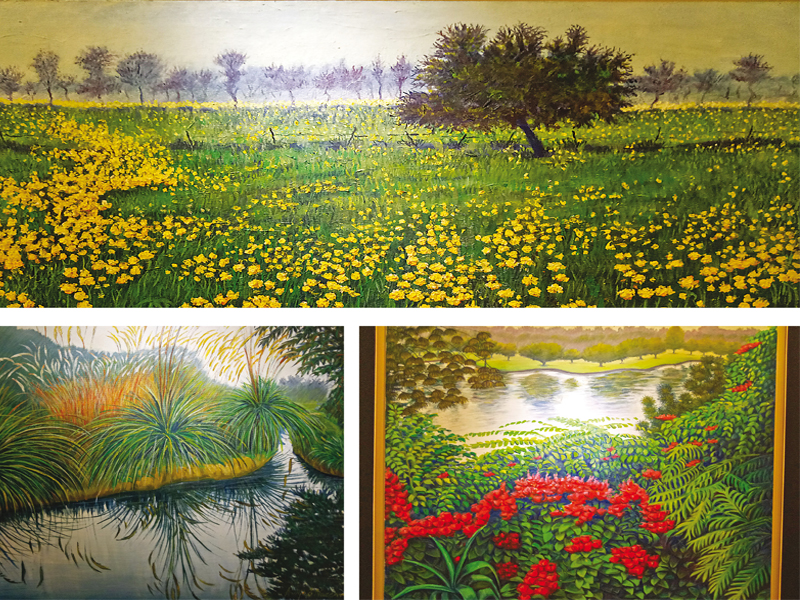 ---
LAHORE: A solo exhibition by Ajmad Naeem showcasing the landscape and architectural art concluded on Saturday at the Hamail Art Gallery.

In his more than 40 paintings in oil on canvas, the artist has tried to capture various scenes of nature laden with flowers and trees, with river streams and sun setting in the backdrop. Some of the paintings on display also feature night life of Lahore's famous food courts, both from old and new city locations like Badshahi Mosque and Lahore Food Street.

The artist said, even though the locations he chose for his landscapes are real, mostly from rural areas beside the River Ravi, the atmospherics and rich colour palette used gives his work an outlook of some sort of fantasy world for nature lovers.

Talking about his inspiration and technique, he said that he took inspiration from senior artists like Khalid Iqbal, Zulqarnain Haider while developing and applying his own technique to his work as well.

Naeem's artworks ranging from landscape to cityscapes comprise interesting social and cultural aspects with aesthetics, commented a senior artist Muhammad Javed, adding he used colour palette very rich, focusing on the subject matter and the story, which attracts the eye and creates a special environment to see and discuss things.

"Undoubtedly, the paintings are vibrant and bold portraying artists' approach and interest in the subconscious mind. It seems the artist has succeeded gradually in discovering self-transformation with some meta-message, added Javed.

According to Javed, Naeem's paintings have symbolised the enjoyment of food in restaurants and visits to the parks surrounded by elements of architecture both oriental and modern.

"The use of dark oranges, greens and blues with hues has created dramatic effects of somewhat night scenes reflecting light from doors, windows and steps of minarets," Javed said.

Through his expressive landscapes, the artist has tried to tell about the beauty of gardens, urban suburban and rural, he said. "Similarly, activities of crops and the way in which buffaloes, cows and bulls are grazing freely have been captured and composed on the canvas interestingly," he said.

Published in The Express Tribune, April 3rd, 2017.