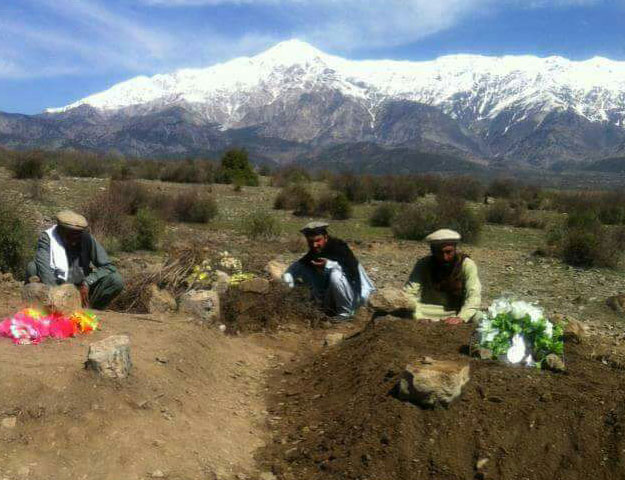 ---
PARACHINAR: Amid heaps of freshly dug up mud, two small graves stood out in a row of 22 others.

Covered in white and adorned with yellow flowers, the graves belonged to four-year-old Zehra and her brother Ali, barely 13 months old. "They had gone to the hospital," their grandfather Naib Hussain, barely able to speak, told The Express Tribune. "They went and never returned."

Zehra and Ali weren't the only ones Naib lost in Friday's grisly suicide bombing at an imambargah in Parachinar. Their mother, Naib's daughter-in-law, was also killed in the attack which claimed 24 lives and wounded more than 100 others. Naib's son Kifayat, also a victim of the blast, is in critical condition at the Combined Military Hospital in Peshawar.

23 killed, over 100 injured as blast rocks Parachinar

"Kifayat had taken his wife to the hospital in Parachinar city," Naib recounted. "She was very ill. They also took their two children with them."

"They never came back," he kept repeating.




Silent rage prevailed in Parachinar a day after the bombing, with mourners still protesting and demanding the removal of Kurram Agency's political agent and assistant political agent. They also called for the arrest of the security officials who allegedly fired on mourners when they protested outside the political agent's office after the blast.

As the martyred were laid to rest, the extent of the carnage in Parachinar became apparent. "More than 160 people were injured in the attack," Agency Surgeon Sabir Hussain said. "Some 80 were discharged after initial treatment but 36 people were in critical condition and had to be airlifted to Peshawar. Another 40 are still admitted to the hospital [in Parachinar]," he added.




Bomb wrecks crowded market in Parachinar

Although Kurram Agency has witnessed a relative calm, Friday's bombing in Parachinar was the second major terrorist incident in the city in less than two months.

"We had just started planning the repatriation of those who had been displaced," a Fata Secretariat official said. "The dispute of lands was close to being settled when this incident took place."

As for Naib Hussain and his son Kifayat, a local elder urged the government to assist the family financially. "They are poor but very respectable people in their village," Imran Hussain Turi said. He also urged the government to arrange the best medical treatment for Kifayat
COMMENTS (2)
Comments are moderated and generally will be posted if they are on-topic and not abusive.
For more information, please see our Comments FAQ