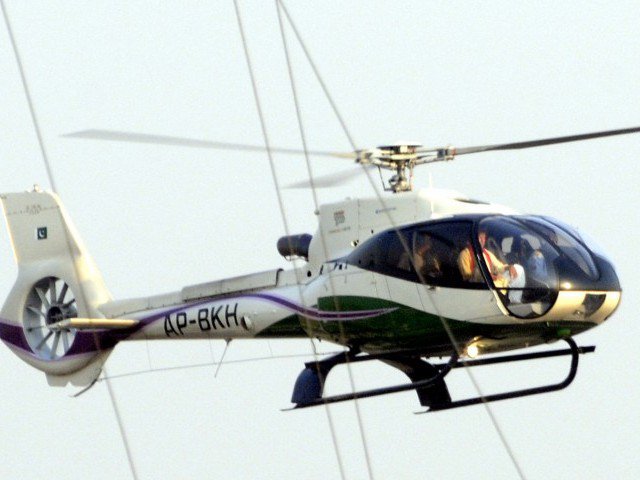 ---
PESHAWAR: The Pakistan Muslim League-Nawaz (PML-N) has decided to take the Khyber-Pakhtunkhwa (K-P) chief minister to court after the party dismissed Pervez Khattak's clarification over the use of a government helicopter by one of his advisers.

The prime minister's advisor Amir Muqam, addressing a news conference, said, "The helicopter was used solely for a political gathering and some business purpose." He added that the PML-N is ready to move court and file a reference in the National Accountability Bureau over the misuse of a public resource. He also urged the Election Commission of Pakistan to take notice of the misuse of the helicopter.

PTI leader's use of chopper raises eyebrows

The PM's adviser was hitting out at the PTI government over a picture of Zargul Khan, regional president of Hazara district and political adviser to the K-P chief minister, in a helicopter that went viral on social media.

Muqam said, "This [helicopter] is not someone's personal property and we are in consultation with our legal team to take the issue to court."  He also questioned Chairman Pakistan Tehreek-e-Insaf's (PTI) silence over the issue, asking what action has Imran Khan taken against the unofficial use of the helicopter.
The adviser also said that those who were claiming to have ended VIP culture were in fact promoting it, since unauthorised persons were using the government helicopter.
He also questioned Imran Khan's silence towards the allegations levelled against K-P Assembly speaker. Muqam said, "[The PTI] should follow a clear policy and not maintain double standards." The adviser also asked that Speaker Qaisar resign and face an inquiry by NAB over the allegations.

Imran, entourage used K-P's helicopters twice

He also said that the PML-N's parliamentary leader Sardar Aurangzeb Nalota has made it clear that his party will not accept Asad Qaisar as the provincial assembly speaker until he is proven innocent.
Maqam also accused Qaisar of favouritism by saying, "Only blue-eyed people were included in parliamentarian groups for foreign trips on government resources."
While talking about cancellation of trials at a stadium in Abbottabad, Muqam said that there were several places where the helicopter could have landed and there was no need to cancel sports trials being held at the stadium.

CM Khattak arrived by a helicopter at the stadium in Abottabad to offer funeral prayers for K-P Information Minister Mushtaq Ghani's mother.
COMMENTS (3)
Comments are moderated and generally will be posted if they are on-topic and not abusive.
For more information, please see our Comments FAQ