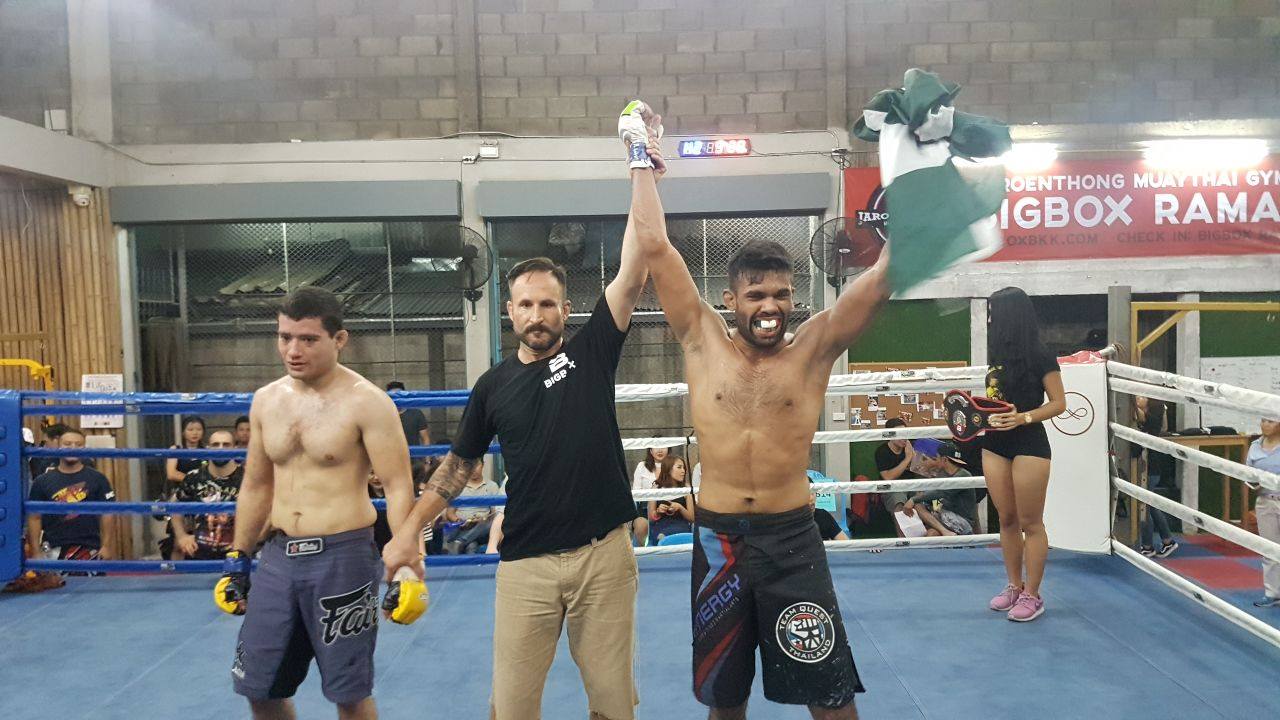 ---
KARACHI: Faizan Khan and Shahid Siddique, two of Pakistan's up and coming mixed martial arts (MMA) fighters, were in action on Saturday in international title fights and both came away with impressive victories.

First up was Islamabad's Faizan, who squared up to local fighter Donald Ali in the co-main event of Predator-1 Fight Series in Marikina City, Philippines, winning via a triangle choke in the second round.

The 23-year-old was originally scheduled to fight John Eco and had trained accordingly, but his bespoke preparations became a nonfactor when his opponent pulled out the night before the bout.


Pakistan's Mehmosh Raza to fight India's Dhruv Chaudhury


With little knowledge about his makeshift opponent, Faizan put on a striking masterclass straight from the coaching manual of his trainer Ehtisham Karim, throwing every possible combination he had been taught at the bigger Donald.


After dominating the opening exchanges, Faizan secured a takedown and locked Donald in a rear-naked choke, only to see his submission attempt foiled by the round one bell.


More of the same happened in the second period, with the Fight Fortress fighter overwhelming Donald before securing a takedown and working towards that choke.


MMA fighter Shahid Siddique all set for international debut


This time, however, Donald reversed the offence, assuming the top position in the half guard and throwing punches in bunches at Faizan.

The Filipino, in a rush of blood and enjoying a dominant position for the first time in the fight, got carried away though, conceding his neck to Faizan.


A few seconds into the triangle choke, Donald tapped out, handing the championship belt to Faizan, who improved his record to 3-1.


[/fbvideo]

"He [Donald] was a tough kid but thanks to Allah I managed to tackle him and got the W," Faizan told The Express Tribune. "I am now the Predator FC champion but will train even harder to get to ONE FC, which is Asia's biggest MMA promotion."

"We wanted to test if our Grenade works, and as everyone saw, it is for real," said coach Ehtisham about Faizan aka The Grenade. "We have big plans for him."

Elsewhere, Karachi's Shahid knocked out defending champion and pre-fight favourite William Thomas May in the second round of their BigBox lightweight championship title fight in Bangkok, Thailand.

The amateur fight saw Shahid successfully defend every one of May's takedown attempts and follow it up with precision strikes.


MMA star Bashir Ahmad challenges Amir Khan to a fight


May's nose was a bleeding mess by the second round, thanks to the repeated punishment it took at Shahid's hands. The Thai-American was finally put out of his misery when an exquisite left hook floored him, with the referee calling it a night.



"I can't describe in words how I feel right now; I feel very proud," said Shahid, a Fighting Alliance regular who was making his international debut. "The plan worked like a charm. He constantly shot for takedowns, which I defended and then counterpunched."

Shahid also thanked his coach Bashir Ahmad and manager Rizwan Ali for training him and getting him the fight respectively.
COMMENTS
Comments are moderated and generally will be posted if they are on-topic and not abusive.
For more information, please see our Comments FAQ