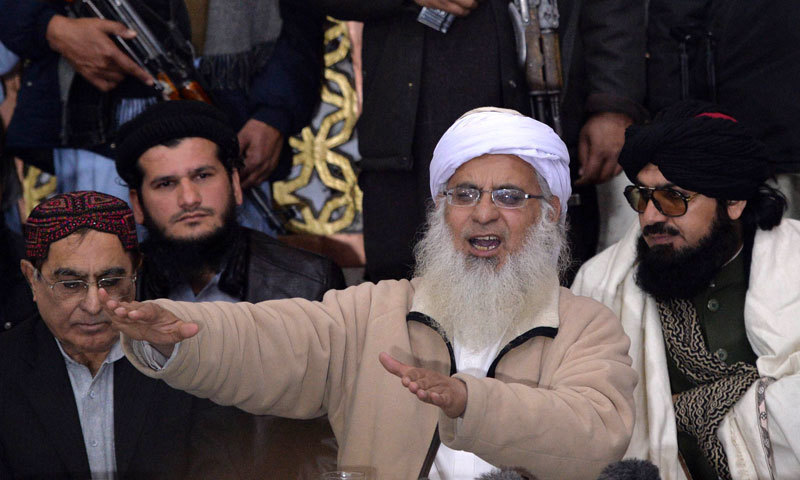 ---
ISLAMABAD: The Islamabad administration and police forcibly stopped Shuhada Foundation and Maulana Abdul Aziz from holding a conference at the Lal Masjid on Friday.

The Shuhada Foundation had announced to hold a Tahaffuz Namoos-e-Risalat (Protection of the sanctity of the Prophet (PBUH)) conference at the mosque in light of the on-going controversy over alleged blasphemous content being shared on social media.

Video lands Lal Masjid cleric in hot water

However, the Islamabad Capital Territory Administration (ICT) did not grant permission to the organisers to hold the event at the mosque and had requested them to cancel it.

However, the organisers were adamant on holding the conference – even if they did not have the requisite permission.

On Friday morning, the police and administration locked down all routes leading to and from the mosque.

Roads from Aabpara to Melody were blocked. Anyone, including pedestrians, motorists, or media were barred from approaching the mosque.

With all routes blocked, Aziz announced that they were postponing their conference till next Friday.

Banned documentary on Lal Masjid cleric screens behind closed doors

The cleric said the step was being taken to avoid violence and clashes with law enforcers. He claimed that police had detained as many as 40 people who were released after Friday prayers.

The police, however, denied making any 'formal arrests'.

Earlier in January, the administration had stopped the Shuhada Foundation from holding a news conference at the mosque.

Published in The Express Tribune, March 25th, 2017.
COMMENTS
Comments are moderated and generally will be posted if they are on-topic and not abusive.
For more information, please see our Comments FAQ