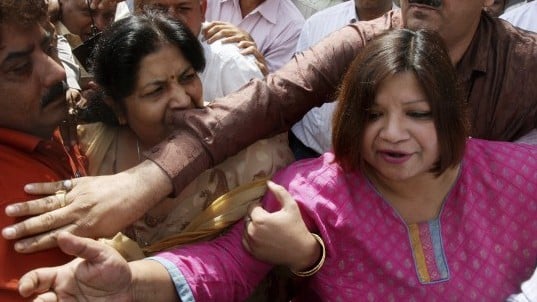 ---
NEW DEHLI: A Delhi court on Saturday extended by 14 days the judicial custody of diplomat Madhuri Gupta, accused of passing classified information to Pakistani intelligence agencies.

Chief Metropolitan Magistrate Kaveri Baweja extended Gupta's judicial custody till May 29 after an investigation agency submitted, during in-chamber proceedings, that they were waiting for a sanction from the government to initiate further action against the diplomat. Emerging out of the incamera proceedings, Gupta's advocate Joginder Dahiya said, "The Delhi police informed the court that they have filed an application under Section 197 of the Criminals Procedure Code (CrPC) seeking sanction for the prosecution of the woman officer."

While opposing police custody during the earlier proceedings, Gupta's counsel claimed that the police had not placed sufficient evidence against her in the court. "They don't talk much about what evidence they have against her because they were seeking remand on the ground that they want to confront her with the records.

They have not shown many records before the court as to what evidence they have collected against her so far," her lawyer had said. Gupta, 53, who has been under police custody since April 23, was arrested after being called back from Islamabad where she was posted as Second Secretary in the Press and Information wing, for allegedly violating the Official Secrets Act. The official came under the scanner after she showed "extraordinary" interest in areas beyond her role in the information wing of the mission.

Central security agencies briefed senior MEA officials about her activities which included supplying sensitive and classified documents related to Indian activities in Pakistan and Afghanistan. She was well versed in Urdu and her services were utilised for translation and interpretation. Earlier, she was posted in the Indian Mission in Kuala Lumpur and worked with India Perspective, a magazine of the External Publicity wing of MEA.

Published in the Express Tribune, May 16th, 2010.