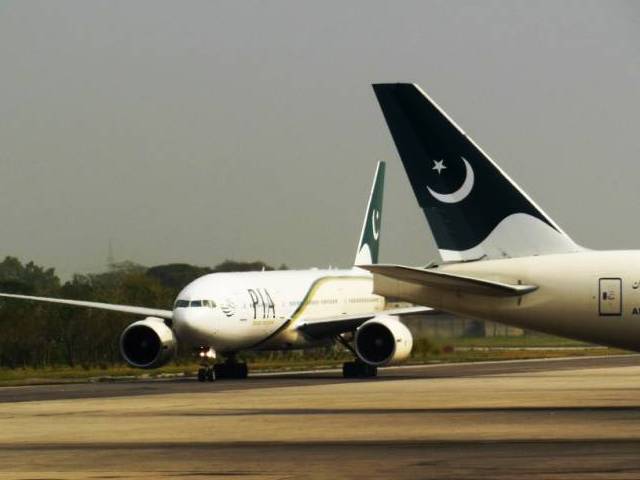 ---
Pakistan International Airlines (PIA) cashed in on United State's recent ban barring Middle East airlines from having electronic items on board.

The Trump administration on Tuesday imposed new restrictions on electronic devices carried by travelers coming to the United States from 10 airports mainly in the Middle East and North Africa in response to unspecified terror threats.

However, Pakistan's national flight carrier isn't one of the airlines flying to the US that is barred from having electronic devices on board.

PIA, in a tweet, said, "Don't let your work get interrupted onboard"


Did you know? You can carry your laptop/tablets onboard US bound #PIA flights. pic.twitter.com/pc8g8Owo9G

— PIA (@Official_PIA) March 22, 2017


PIA flies direct to New York from Lahore and has connecting flights to different US cities via Dubai.

US bans large electronics from 10 airports, mainly in Middle East

The Department of Homeland Security will  now require passengers coming to the United States from airports in Jordan, Egypt, Turkey, Saudi Arabia, United Arab Emirates, Kuwait, Morocco and Qatar to check electronic devices larger than a cell phone such as tablets, portable DVD players, laptops and cameras.

The airports affected are in Amman, Cairo, Kuwait City, Doha, Dubai, Istanbul, Abu Dhabi, Casablanca, Morocco; Riyadh and Jeddah, Saudi Arabia.

The airports are served by nine carriers that fly directly from those cities to the United States about 50 times a day and include Royal Jordanian Airlines, Egypt Air, Turkish Airlines, Saudi Arabian Airlines, Kuwait Airways, Royal Air Maroc, Qatar Airways, Emirates and Etihad Airways, senior government officials said.