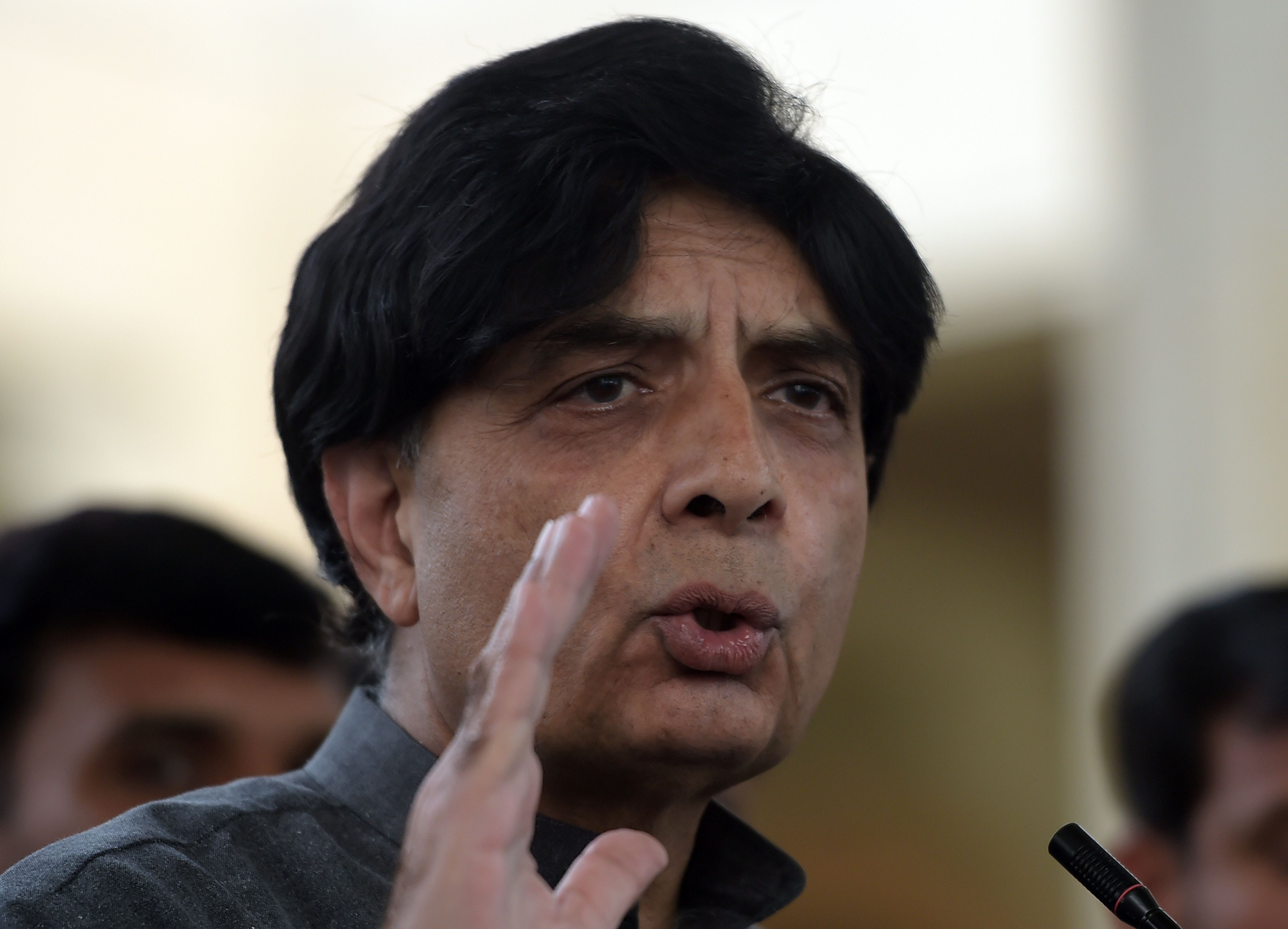 ---
ISLAMABAD: Interior Minister Chaudhry Nisar Ali Khan said on Monday that laws of the land did not 'restrict' government officials from meeting leaders of proscribed organisations.

"There is no such law that bars government officials from meeting leaders of banned outfits, or restrict them [leaders] from contesting elections, holding public rallies and processions," Nisar said while speaking in the Senate.

He was responding to a motion moved by Sehar Kamran and others regarding implications of the statement made by him in the Senate on January 10, in which he made a distinction between banned terrorist outfits and proscribed sectarian organisations.

Crackdown on sectarianism

The meeting had taken place just a few days before the PTI's abortive sit-in on November 2, last year after which the Supreme Court took up the Panama Papers case.

"To deal with such issues, there is a need to improve legislation," Nisar added. "New laws that the government plans to introduce will tighten the noose around those who are involved in stoking sectarianism."

He also sought cooperation of the opposition in enacting such laws. "There should be no politics on security and economy of the country," he said.

Broached through a joint motion moved by several opposition senators, the minister claimed that his January 10th speech was taken 'out of context'.

He categorically denied having said anything espousing leniency towards groups spreading sectarianism in the country, but at the same time he defended his meeting with a delegation of clerics in October last year that included some leaders who remained affiliated with proscribed organisations.

Without naming Maulana Ahmed Ludhiyanvi of the Alhe Sunnat Wal Jamaat, Nisar alluded to his huddle with a delegation led by Mualana Samiul Haq to discuss the issue of blocked CNICs of leaders of the banned outfits.

Interestingly, leaders of the ASWJ and some other religious parties held a public meeting in the federal capital immediately after their meeting with the interior minister in violation of Section 144.

The interior minister also referred to the meetings of Maulana Ludhiyanvi and other clerics with cabinet members during the previous PPP regime and former president Asif Ali Zardari. "No one had objected [to such meetings] at that time. It is good to see that people are more aware of facts now."

Sectarian, religious violence: Islamabad, AJK only regions spared in 2016

According to the minister, the organisations found involved in spreading sectarianism have been banned and cases instituted against such outfits. "However, there are hundreds of people affiliated with such outfits against whom no cases are instituted against them."

Referring to Operation Zarb-e-Azb and the Operation Radd-ul-Fasaad, Nisar said: "These are the initiatives of the federal government, but in order for them to succeed, active support of provincial governments are needed."

The minister categorically stated that no terrorist organisation has established its headquarters in Pakistan.

Meanwhile, the government did not oppose a private member's constitutional amendment bill.

Tabled by Azam Khan Swati of the PTI, the bill prescribes separate oath for non-Muslims when they enter in legislative assemblies or before assuming the office as cabinet members.

The proposed amendment to Article 255 states: "A non-Muslim while making an oath before entering upon an office should not initiate the oath with "Tasmiyah" (Bismillah Irrehman Niraheem) or its translation given in the normal oath and he may only use words "ideology of Pakistan" instead of words "Islamic Ideology" given in the oath. Law Minister Zahid Hamid did not oppose the bill.

Also, the bill on the re-establishment of military courts will be taken up in the Senate on Wednesday.

Published in The Express Tribune, March 21st, 2017.
COMMENTS
Comments are moderated and generally will be posted if they are on-topic and not abusive.
For more information, please see our Comments FAQ