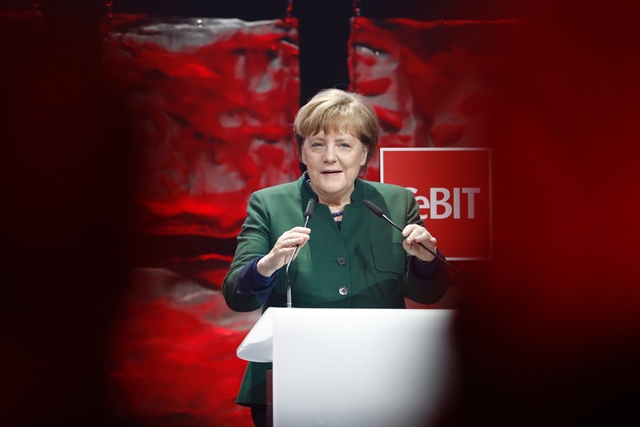 ---
BERLIN, GERMANY: Chancellor Angela Merkel warned Monday that Germany could ban future campaign events by Turkish politicians on its soil unless Ankara stops "Nazi" jibes aimed at Berlin.

Turkey and the European Union -- especially its top economy Germany, with its large Turkish diaspora -- are locked in a bitter dispute as tensions rise ahead of a April 16 referendum on expanding President Recep Tayyip Erdogan's powers.

Erdogan at the weekend accused Merkel of using "Nazi measures" after local and state authorities in Germany had refused to allow several Turkish ministers to campaign for a 'yes' vote there.

Merkel stressed that such insults must stop -- "no ifs, no buts" -- and that Germany reserved the right to "take all necessary measures, including reviewing the permissions" for campaign events it had already granted.

A stern-faced Merkel said such comments were "breaking every taboo, without consideration for the suffering of those who were persecuted and murdered" by the Nazis.

Germany says Erdogan has 'gone too far' with Nazi jibe

Raising the issue at the start of a joint press conference with Japanese Prime Minister Shinzo Abe, she stressed that "appearances by Turkish politicians here can only take place on the basis of the principles of German constitutional law".

A German foreign ministry spokesman earlier also condemned the insults but indicated that Berlin had no interest in entering a spiral of mutual provocations and insults.

"Who would really benefit from it if we paid back in kind, if we answered using the same language as the Turkish president," said the ministry spokesman, Martin Schaefer.

"It benefits mostly the Turkish president who... with threats, insults and more is seeking majorities of Turkish citizens in Turkey and also... in Germany for the constitutional referendum of April 16."

To hit back with strong verbal retaliation would mean falling for Erdogan's tactic, Schaefer said, stressing that Germany is "a strong, democratic country" that could handle such insults.

But he cautioned that "we are not defenceless or stupid or naive and, if pushed too far, the government will react."

Turkish daily depicts Merkel as 'Frau Hitler' on front page

Other EU countries, including the Netherlands, have had similar rows with Turkey, a candidate country for membership in the bloc.

But relations with Turkey are especially important for Germany, which has been home to a large community of Turks since the "guest worker" ("Gastarbeiter") programme of the 1960s and 70s.

Over the past year Germany has also banked on a EU agreement with Turkey that has sharply reduced the influx of asylum seekers that has brought one million refugees and migrants to Germany since 2015.

However, bilateral ties have been put to the test, especially since last summer's failed coup aimed at ousting Erdogan.

Berlin has emerged as a strident critic of Ankara's vast crackdown since, which has seen more than 100,000 people arrested, suspended from their jobs or sacked for alleged links to the plotters or to Kurdish militants.

Both NATO partners have also rowed over a German TV comedian's biting satire targeting Erdogan and, more recently, Ankara's arrest of a journalist with the German daily Die Welt.

Ankara has in turn accused Berlin of harbouring "terrorists" and of failing to respond to requests to hand over suspects from the coup as well as Kurds it believes are members of the outlawed Kurdistan Workers' Party (PKK).

Turkey on Sunday protested a pro-Kurdish rally in Frankfurt where demonstrators carried symbols of the PKK, which is listed as a terror organisation not just by Turkey but also the EU and the United States.
COMMENTS
Comments are moderated and generally will be posted if they are on-topic and not abusive.
For more information, please see our Comments FAQ