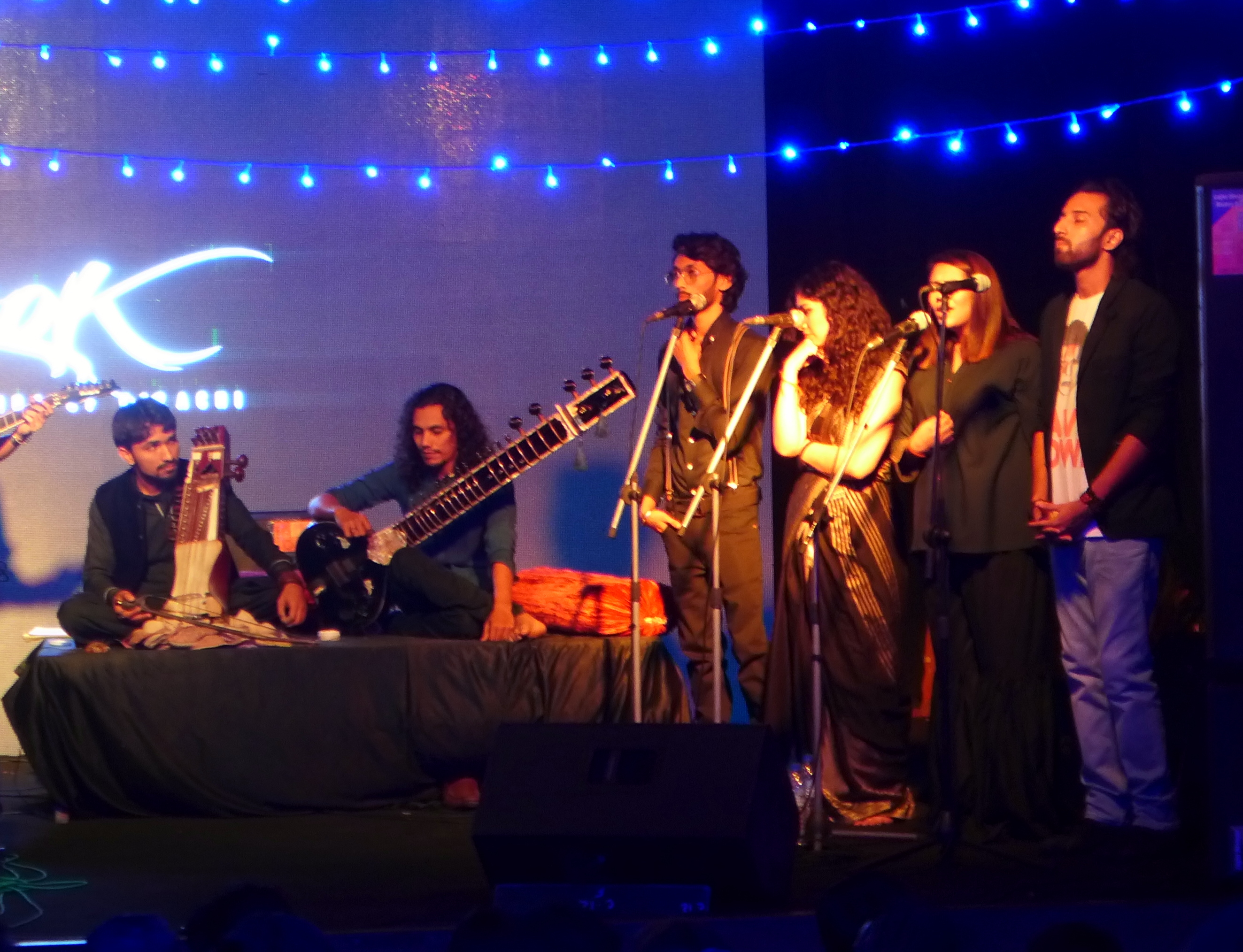 ---
KARACHI: Sounds of Kolachi have been around in an evolving format since 2014, and their outing at the PCC open-air (but remarkably enclosed) Arena on the evening of March 17 was more a collision of musical genres than a fully-realised fusion. Unfamiliar as I was with them my expectation was of an evening that was laced with the sounds of Sufism. What I got was the in-your-face trainwreck that is the sound of life in Karachi. At some point in the two-hour set I detected influences from Captain Beefheart, to the Incredible String Band, to Zappa to Nirvana, the Pistols and assorted pomp rockers of 80's vintage that noodled away on their guitars for endless minutes tossing their manes and generally going nowhere.

Sounds of Kolachi turn up the volume




There was jazz, and particularly the scat vocals from the four singers that had clearly at some point had their voices trained in the western classical tradition, and there was some dazzling instrumentality throughout. These people could play and sing, had done their rehearsals and were pretty-much pitch perfect. There was also a sense of urgency, almost a subtext of desperation, underlying much of the music not much of which could be classified as remotely easy listening - and completely foxed some of the audience that made desultory attempts to clap along but found it a tad difficult in the face of drum-and-bass that would strip the enamel off your teeth.

Ah yes…the audience. My ticket number was 419 and there were plenty that came in after me and my companions, and the venue was packed probably beyond capacity – perhaps 600 tops. There were a few other grey heads and some rather bemused begums who looked like they had at some point fallen into a deep sleep only to awaken in a parallel universe; but mostly it was the teens-to-thirty crowd that were quite definitely, inarguably and without a shadow of a doubt having a helluva a good time. They whooped and hollered and clapped in all the right places, were far more familiar with the music than I was and were there to support an ensemble – not really a band – that is shortly off to entertain the 'Muricans.

The 'Sounds of Kolachi' reverberate

So did it work? The set-list and the lyrics went over my head but the music I got – and the impression was that it was a plate overfull. Almost too much of a good thing. It was also neither fish-nor-fowl, and whatever elements of Sufism there were inside the sound would in all likelihood be lost on a foreign audience. Strip it back, lose the keyboards, do something about the deeply tedious light-dance on the wall at the back of the stage, keep the kazoo (…well it sounded like a kazoo) scrap the acoustic guitar and dial back a tad on the bass for small performance spaces as it overwhelms other interesting stuff around it – and all that apart yes it worked. See 'em again? Yup. Buy the disc? Yup. Recommend to the average pop-picker? Probably not. This is edgy music out of the Pakistan mainstream…so go on; give your ears a bit of a risk. Sounds of Kolachi – tick!

Have something to add to the story? Share it in the comments below.