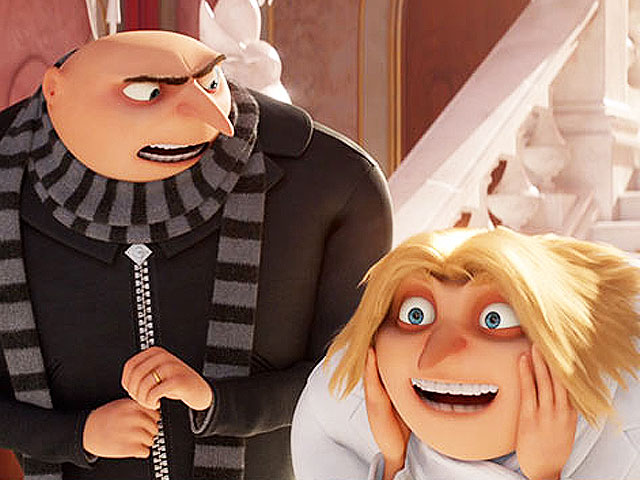 ---
The new-fangled trailer of animated comedy film Despicable Me 3 gives a sneak peak of the character Gru's twin brother.

While the first trailer highlights the film's villain Balthazar Bratt (voiced by Trey Parker), the new sneak peek hilariously reveals that Gru (voiced by Steve Carell) actually has a twin brother named Dru.

The sneak peek is set to Dr. Dre's song What's the Difference and begins with a butler telling Dru an important thing.

Despicable Me 2 minions top Sandler's Grown Ups 2 at box office

"I really must have a word with you on behalf of your twin brother Dru," says the butler. Gru, who is shocked, replies: "Twin brother?!"

The teaser switches to a scene in which Gru is taking a flight to visit his twin brother and yelling, "I can't wait to meet my brother!"

At the end of the teaser, it is revealed that Dru lives in a huge mansion.

The film's plot detail is still kept under wraps, but it may focus on a sibling rivalry as well as Gru and Lucy's (voiced by Kristen Wiig) attempts to capture Balthazar Bratt.

The first Despicable Me movie was released in 2010 followed by 2013's Despicable Me 2.

Film review: Minions - More 'aww' than awe

The Despicable Me spin-off Minions was released in 2015.

Also voicing the characters in Despicable Me 3 are Miranda Cosgrove (Margo), Dana Gaier (Edith), Nev Scharrel(Agnes), Russell Brand (Dr. Nefario), Andy Nyman (Clive), Pierre Coffin (Kevin the Minion/ Bob the Minion/ Stuart the Minion/ additional Minions) and Michael Beattie (The Scar-Faced Man).

Watch the trailer here:


Have something to add in the story? Share it in the comments below.