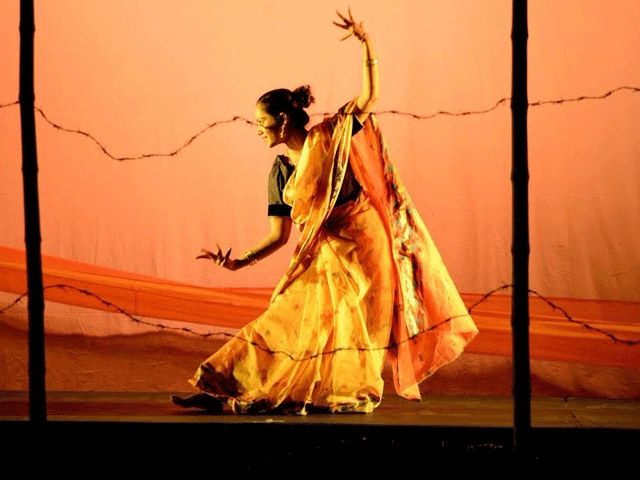 ---
LAHORE: Twenty artists from popular Lahore-based theatre troupe Ajoka Theatre have finally left for India, to take part in the Humsaya Festival which is held in Amritsar every year. The group, lead by Ajoka's founder Madeeha Gohar, travelled via Wagah border, thereby becoming the first Pakistani artists to visit India since last year's ban.

The thirds Humsaya Theatre Festival will take place from March 15 to March 20, in collaboration with Amritsar-based performing arts group Manch Rang Manch. The event will see a total of six plays at two venues in the city: the Virsa Vihaar Cultural Centre and Amritsar Art Gallery. Ajoka Theatre will perform Mere Rang de Basanti Chola, Kaun Hai Yeh Gushtakh and Anhi Maai da Sufna.

This year, the theme of the festival is "Revisiting Partition," in light of the 70th Independence Day. "The first and second Humsaya Festivals were hugely successful. This year, some of India's best theatre troupes are also taking part and we will all be performing plays that promote peace," Madeeha told The Express Tribune. "Ajoka has been performing in India for nearly 25 years and is determined to bring peace through art. We have always played our part in promoting art and love and so, all our plays are based on real-life stories of pain, anguish and suffering from the Partition."

Ajoka Theatre: All for a good cause

"We believe that holding a collaborative event like this has become all the more necessary, considering the recent tensions between India and Pakistan," added Ajoka Theatre executive director Shahid Nadeem. "Humsaya is a declaration from the artists that they reject politics of confrontation and are determined to bring peace on both sides of the border."

Manch Rang Manch and Chandigarh's Adakaar Manch will perform Pul Sirat, Ik see Manto and Amar Katha as well. Also, a seminar on 'Partition and Theatre' will also be held on March 20 where eminent theatre personalities from both India and Pakistan will speak on the matter.

The Humsaya Festival will be followed up with a tour of Indian Punjab, wherein Ajoka Theatre will perform Anhi Maai da Sufna in Jalandhar, Patiala and Chandigarh as well. The play literally translates to 'A Blind Woman's Dream' and tells the story of generations separated during Partition.

Have something to add to the story? Share it in the comments below.