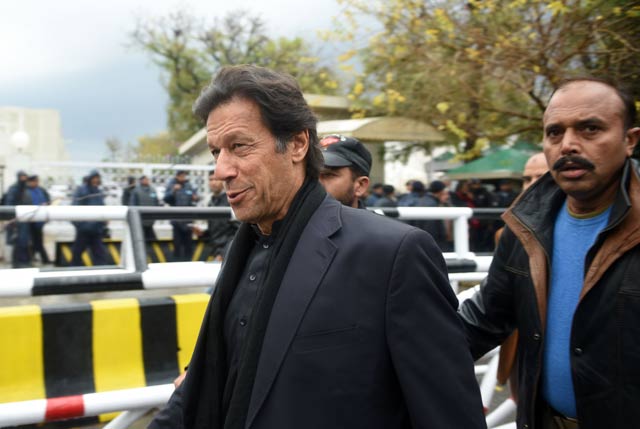 ---
ISLAMABAD: Lawmakers from Pakistan Tehreek-e-Insaf (PTI) and Pakistan Peoples Party (PPP) walked out of the National Assembly session on Friday in protest against comments made bt passed by the ruling Pakistan Muslim League-Nawaz MNA Mian Javed Latif, who called PTI chief a 'traitor'.

The walkout was in response to Latif's remarks about Imran Khan and the subsequent scuffle between the ruling party's lawmaker and PTI MNA Murad Saeed.

Earlier, PTI's Dr Arif Alvi, during point of personal explanation in the Parliament, questioned how the ruling party lawmakers would react if such a statement was passed against their leadership.

He went on to say that Deputy Speaker Murtaza Javed Abbasi, who was chairing the assembly session, restrained the PTI lawmakers from speaking. Alvi demanded that Latif's membership of Parliament should be revoked.

Imran Khan bars party members from sharing public forum with PML-N's Javed Latif

Meanwhile, another PTI MNA Ali Muhammad Khan said whatever happened outside the National Assembly on Thursday was a sequel of what happened inside the House. Addressing Latif, he said, "No PTI parliamentarian can even think of calling Nawaz a traitor."

The PTI MNA demanded that remarks made by the ruling party's MNA should be expunged. "A Pakhtun can take a bullet to his chest but can't tolerate abusive language."

The NA turned into a bedlam on Thursday as a fight broke out between lawmakers of ruling PML-N and PTI in the Parliament's lobby.

Earlier today, PTI chief Imran Khan announced that no representative of his party will appear on TV shows or public forums where Javed Latif is present. Imran took to Twitter to state that PTI members will not share any kind of platform with the PML-N legislator.
COMMENTS (2)
Comments are moderated and generally will be posted if they are on-topic and not abusive.
For more information, please see our Comments FAQ