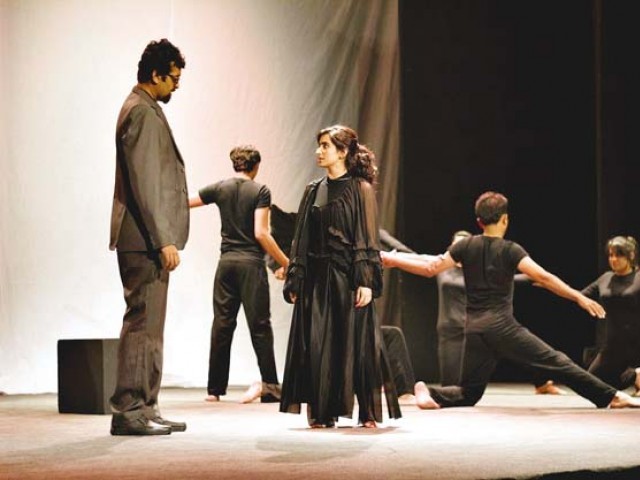 ---
KARACHI: National Academy of Performing Arts (Napa) returns this year with their annual International Theatre and Music Festival, to be held from March 16 to April 2. The event will include 24 performances, with participants from local theatre productions as well as international troupes.

Addressing the media at a press conference on March 9, Napa artistic director Zain Ahmed said, "We started this International Theatre Festival in 2012 with six plays. This year, we will have a record 24 performances. This is the biggest festival we have ever organised."

Room to grow: NAPA inaugurates new Basement Playhouse

Napa programmes director Arshad Mehmood said one of the motives behind the festival is to make more people come to watch theatre. "We would like to see more people inclined towards arts and artists, who showcase their talents on the stage. We want people to break out of their television-watching routines and put down the remotes. We hope to achieve that through the festival."

The 18-day festival will include five music performances and five plays by international participants from Italy, Nepal, Germany, the United States and Palestine. Zain shared, "This is possibly the first time that I'm aware of, that a Palestinian theatre group will be performing in Pakistan." He added that Napa had planned to invite troupes from India as well but decided against it in light of the recent tensions between the two countries.

Napa sheds light on child marriages with latest play 'Raat'

The local plays will be directed by Napa faculty members such as Akbar Aslam, Uzma Sabeen and Zain himself, as well as graduates such as Sunil Shankar. "Moreover, we have partnered with Karachi Youth Initiative (KYI) for a playwriting project. We have finalised five fresh plays which will be presented during the festival," revealed Zain. He added that this was their biggest challenge because, they "realised there are no new plays being written for quite some time."

As Napa gears up to breathe life into the local theatre circuit, there seems to be a diversity of plays in the festival. Tehreek-e-Niswan founder, activist and theatre director Sheema Kermani will be part of the festival with her play Ga'on Mae Roshni (written by Anwer Jafri). Apart from majority of the plays being in Urdu, one play (directed by Rauf Afridi) will be presented in Pashto as well.




Addressing the presentation of plays in different languages, Zain said, "We recently held the Young Directors' Theatre Festival where we staged plays in several languages such as Sindhi, Punjabi and Memoni, etc. And we realised that there is an audience for each of them. So, this time, there will be a Pashto play too. And we hope that sometime in the near future, we will stage a play in Balochi as well."

Young Directors Festival comes of age

As far as the music performances go, Napa music faculty Nafees Ahmad shared, "We look at Karachi and find a ton of diversity in music as it contains within itself a mixture of all cultures. There isn't enough representation of them all. So, our five music showcases will reveal the diversity of the city."

In an interesting addition, Nafees said that Allama Iqbal's Jawab-e-Shikwa will also be performed. "We chose it because of Iqbal obviously, and his poetry. We are also going to add verses of Shikwa in it."

The music showcase will be held on five different nights with different themes, including qawwali, pop and a jam session with some musicians from different backgrounds performing together.

The festival runs from March 16 to April 2 at 6pm and 8pm.

Have something to add to the story? Share it in the comments below. 
COMMENTS
Comments are moderated and generally will be posted if they are on-topic and not abusive.
For more information, please see our Comments FAQ