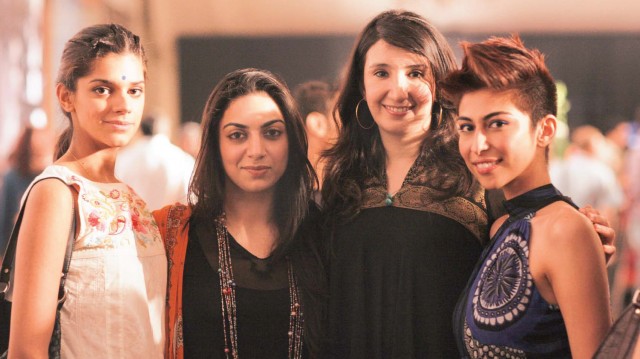 ---
KARACHI: Coke Studio's third season looks set to be full of interesting contrasts. Arif Lohar, Punjab's beloved folk singer whose chimtas (tongs) - as a friend of mine once put it, "seem to be an extension of his body" performing with the edgy Overload singer, Meesha Shafi.

The extraordinary Tina Sani singing with Arieb Azhar of "Husn-e-Haqiqi" fame, and pop singer Amanat Ali performing an Urdu version of the hit Cheb Khaled hit, "Aicha". With a line-up that is every Pakistani music fan's wildest dream come true, this year's Coke Studio promises to provide a deeper insight into the very basic concept of fusion music when it goes on air on June 6.

At a press launch on Thursday night, the artists performing, the crew behind the show and representatives from Coke came together to introduce the third season. A montage video played to introduce the show left one awe-struck, particularly the powerful voices of Abida Parveen and Tina Sani, the chemistry of Lohar and Shafi, the strains of folk music by Fakir Juman Shah and the spine-chilling moment when Rizwan and Moazzam sing "Ni Saiyon Asa".

The atmosphere at the event was just as electric - Abida Parveen was mobbed by television cameras, while the rest of the artists looked buoyant at the launch of the project. The Express Tribune spoke to some of the featured artists about their experience at Coke Studio.

MEESHA SHAFI

What was it like to perform with Arif Lohar?

Fantastic. It was a dream come true, one of those far-fetched dreams that you can never imagine will come true.

Singing in Punjabi is difficult. How was it for you?

I didn't find it difficult because I'm from a Punjabi family and the dialect comes naturally to me.

ARIF LOHAR

How was your experience at Coke Studio?

I really liked it because I feel through Coke Studio a younger generation is introduced to our traditions and artists from every province have been represented at the show. I am happy that I have worked on such a platform. I am thankful to Rohail Hyatt for calling me and the team has done such exceptional fusion, har artist hai, rang ka baadshah hai. This is a huge service to the country. Bohat zyada tension hai logon main; magar bata kuch nahee, sab aik hai.

ROHAIL HYATT

How do you feel now that the project has been introduced to the world at large?

It's been hidden so far, so seeing it go up, and the emotional reaction that the artists and the people here are having almost has me in tears. It's very exciting, the fact that people still get excited about it, and it's almost redefining what 'commercial' is.

TINA SANI

How was your experience at Coke Studio?

Fabulous! Its music and music can never be a stranger to me. I can be anywhere in the world and feel at home with musicians. At Coke Studio, nobody compromises so you each bring your art. I had heard some of the songs before, but this was a new breed of talented musicians that I didn't know about. (Last season) when I heard Zeb and Haniya sing "Paimona Bitte", I called Rohail (Hyatt) and then I went out and bought their CD!

AMANAT ALI

How was your experience at Coke Studio?

It has been a great experience. I am very excited. The kind of songs that we have done, people will be able to see our versatility and style.

What was the thought behind doing an Urdu version of "Aicha"?

Initially, Rohail Hyatt and I had thought of doing a mix of the original French lyrics with Urdu ones. But then it did not make sense because people here do not speak or understand French so we thought of doing the entire song in Urdu.

ALI HAMZA

Given the fantastic response Noori got last year, did you go in knowing there were higher expectations?

No, you can't think about that at all! You get in to do your best and that's all you focus on.

How was it working on this season?

It's much bigger, the production, everything. It's brilliant!

Published in the Express Tribune, May 16th, 2010.