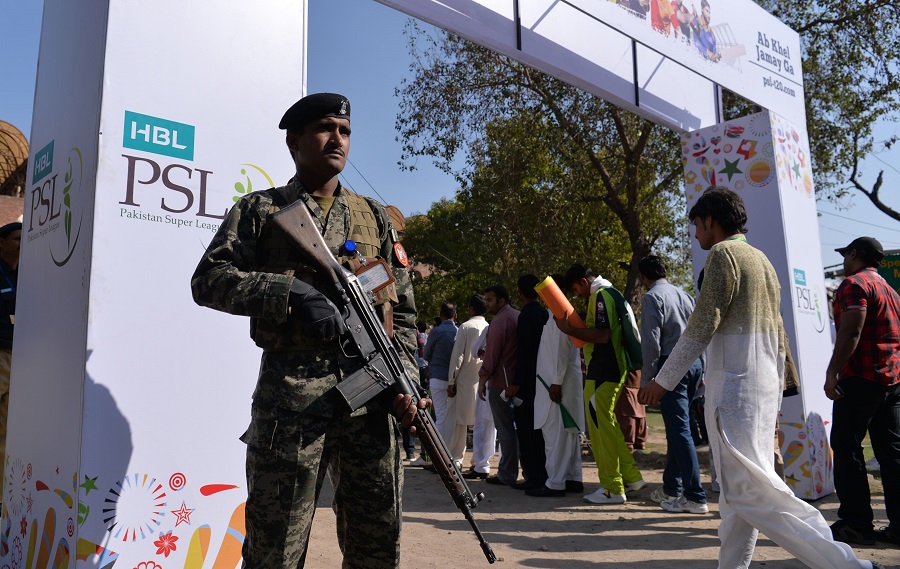 ---
HONG KONG: Captain of the champions Peshawar Zalmi side Darren Sammy and Quetta Gladiators all-rounder Rayad Emrit have tentatively endorsed the return of international cricket to Pakistan after their whirlwind trip to Lahore for Sunday's heavily guarded Pakistan Super League final.

The blanket security, deploying thousands of troops, military helicopters and armed guards on horseback, came after a deadly militant attack in 2009 on Sri Lanka's team halted visits by top-level cricket teams.


#CricketComesHome: And Lahore parties...


The rest of the Pakistan Super League was played in the United Arab Emirates, but Sunday's incident-free final has opened the door to more international cricket with a World XI now scheduled to visit in September.




Several foreign players, including England's Kevin Pietersen and Luke Wright, skipped the final over safety fears, but Sammy praised the arrangements in Pakistan.


Triumph for Pakistan, cricket: Terror clean bowled


"Security was really tight," the West Indian told AFP in Hong Kong. "I only thought about security when I was on the bus. Peshawar is like a family -- once one foreign player was going there we were all going. It's like a brotherhood."




Asked whether international cricket should now return, Sammy replied: "It's not in my jurisdiction.

"Playing in Lahore was like playing anywhere in the world once I was in the stadium. The fans are just as passionate. It's a small step in the right direction -- time will tell."


It was an absolute pleasure..sad I didn't get interviewed by you this year😭😭 https://t.co/lPyLHXyF7X

— Daren Sammy (@darensammy88) March 6, 2017


Sammy further said that the journey was "Airport, hotel, stadium, airport. 3am to 3am. It was more or less in and out".

Gladiators' and West Indies all-rounder Rayad Emrit, who was a late replacement for the final and travelled for 25 hours to play in Lahore, said that once he landed in the city, he felt completely safe about it.

"There's always risk if you're playing in Pakistan. But to be honest when we got there I felt safe," he said, calling the sold-out Gaddafi Stadium "electrifying".


Thanks to @TeamQuetta for having us and thanks to the wonderful security we had here in @thePSLt20. See you guys soon. God is Great pic.twitter.com/VYubBMBsjR

— Rayad Emrit (@rayad51) March 5, 2017


"We had armoured vehicles, took us straight to the hotel. They closed off all the streets and then back to the ground where they did the same thing. From the game we headed straight to the airport. No time."


Last but not least a huge thank you to these guys. Been a great journey and a fantastic experience. 🏏🏆#KhpalTeam #PeshawarZalmi pic.twitter.com/Bbro5pgnpq

— Dawid Malan (@dmalan29) March 7, 2017


None of the players said they had heard remarks from Pakistan legend Imran Khan, who in a leaked video called the final's foreign players "third-class" and anonymous, drawing a heated response online.

Khan later defended his comments, saying Sammy is "not a big player" compared to his fellow West Indian Chris Gayle, or Pietersen.