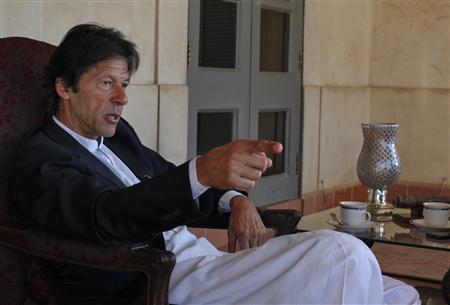 ---
KARACHI: By now it has become a near-certainty that if a PML-N leader says 'the sky is up', PTI chief Imran Khan will say it is down. And then he will threaten to stage a sit-in.

Imran's most recent 'counter-argument', however, may be a bridge too far even for his supporters, as the erstwhile Pakistan cricket team captain made critical, and arguably racist comments, about the international players that participated in the Pakistan Super League final in Lahore.

In what seems to be footage from an internal party meeting, Imran brands the international players who came for the match 'phateechar' (shabby).

Imran Khan in eye of storm over 'vile' comments about foreign PSL players

"I don't even know the name of any of these so-called foreign players…They just picked up players from wherever…some random players so-called foreign players…They just picked up players from wherever…some random players from Africa and called them foreign players," Imran said, before adding that such players would have willingly come to play domestic cricket in Pakistan anyway for the money they were being paid.

In the same video, Imran explained his comment by saying that top talent did not come for the match, which was implied to constitute a failure for the organisers.

The PTI chief was lambasted on social media for his tone, especially the perceived racism in his reference to the 'African' players. Noted journalists slammed his tone, while a number of sports fans – including some that self-identified as PTI supporters – were quick to point out that Sammy and Samuels have won two T20 World Cups each, while Imran only had the 1992 ODI World Cup to show.

Others attacked his U-turns and nihilistic views ahead of the game. After initially criticising the government's inability to hold the tournament in Pakistan, he pulled an about-face when Lahore was announced as the venue for the final.

Touring Pakistan was brilliant experience: Chris Jordan

Terming the decision "madness", he also said, "God forbid, if any blast takes place in Lahore, there will be no cricket in Pakistan in the next 10 years," while speaking to a private news channel.

MQM's Faisal Sabzwari agreed that, "Imran's comments sounded racist," while Minister of State for Information Marriyyum Aurangzeb said,  "The use of petty words were a reflection of Imran's mentality," and that, "If the final match of PSL was madness, then the nation will continue to respond to terrorism this way."

 Which Africans do you speak of?

In Imran's defence, Quetta's potential headliner, English international Kevin Pietersen, and other known quantities such as New Zealander Nathan McCullum and Englishman Luke Wright did not show up, citing security fears. But there were at least two very well respected players who happen to be black in the victorious Peshawar Zalmi squad – West Indian internationals Darren Sammy and Marlon Samuels – who had no qualms about playing in Lahore.

They also did not have too much trouble winning the hearts and minds of millions of Pakistani cricket fans with their post-match exuberance.

The irony of course is that all of the black players that participated from either side were West Indian. For those weak in geography, the West Indies are split between North and South America.

PSL final: Marriyum condemns Imran's statement

Meanwhile, the two Africans who came to play – Zimbabwean Sean Ervine, South African Morné van Wyk – are both white. In fact Pietersen was also born and raised South African. He only played for England because of issues with local cricket bosses.

So in reality, the most notable player Pakistan was unable to convince to attend was an African.

Published in The Express Tribune, March 8th, 2017.