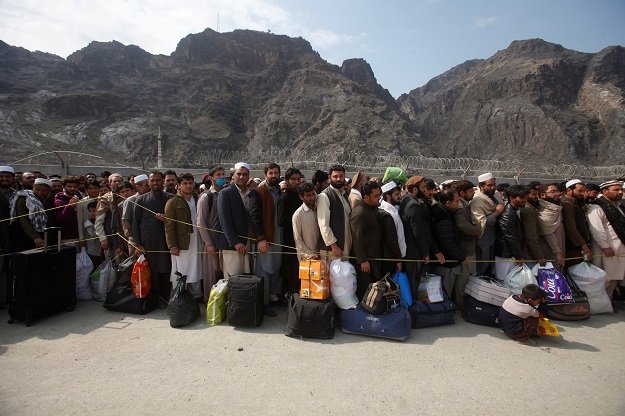 ---
LANDI KOTAL/ QUETTA: Thousands of people flocked to border crossings at Torkham and Chaman on Tuesday as Pakistani authorities temporarily reopened the border with Afghanistan after 18 days.

The government announced the previous day it would reopen the Torkham and Chaman crossings for two days to allow Afghan and Pakistani travellers stranded on both sides of the Durand Line to return to their home countries.

According to officials, as many as 12,549 people crossed over to Afghanistan at Torkham amid tight security while 470 entered Pakistan from the neighbouring country. Another 6,848 Afghan citizens and 1,646 Pakistanis crossed back into their respective countries through the Friendship Gate at Chaman, a senior Federal Investigation Agency official said.

Pak-Afghan border opens for two days

"Most of the people who had valid visas or those whose visa had expired in these past 18 days have been allowed to return to their respective countries," a Khyber Agency political administration official told reporters. "But those without proper travel documents have not been allowed to cross over to either side [through Torkham]."

"We did not even entertain those Pakistani citizens who traveled to Afghanistan using only their identity cards," he said, adding that an alternative will be provided to them after authorities receive orders from the interior ministry.

However, those who crossed the border at Chaman were mainly Afghan and Pakistani traders travelling on special permits issued under an agreement signed between both countries' border authorities some months back. Under the deal, traders with business based in Chaman or Afghanistan's Vesh Mandi town can obtain permits to cross the border after showing just their identity cards.

Some 6,728 Afghans and 1,631 Pakistanis crossed the border at Chaman on Tuesday using the aforementioned permits, officials said. Only 120 Afghans and 15 Pakistanis who used the crossing had visas, they said. The officials added that those who crossed the border with valid visas included women, children and some patients suffering from serious diseases, such as cancer.

Kabul may airlift stranded Afghans if Pakistan border not reopened

Although people were permitted to use the Chaman and Torkham crossings, the thousands of trucks loaded with transit trade goods were not allowed through.

The Torkham crossing opened at around 7am on Tuesday, a border management official said. According to him, the crossing was initially supposed to close for the day at 6pm but authorities kept it open till around 9:10pm to facilitate as many people as possible. He added that the crossing will again open at 7am today (Wednesday).

The Chaman crossing opened at 8am and closed at 5pm, officials said.

Published in The Express Tribune, March 8th, 2017.