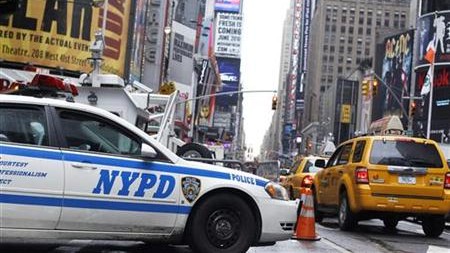 ---
NEW YORK: Authorities in the United States followed the money trail in the failed  New York bomb attack and arrested three men.

Investigators said that all three men appear to have given money to Shahzad at some point, but may not have known how the money would be used. Times Square bomb suspect Faisal Shahzad told investigators he received cash at a meeting at a Dunkin' Donuts shop on Long Island ahead of the failed bombing.

An official who spoke to AP on condition of anonymity said that investigators have obtained and reviewed a security camera video from the shop. He declined to say who Shahzad said he met with, how much money was exchanged or whether the video proved useful.

Pakistan holding two suspected financiers

Meanwhile, a senior US military official has claimed Pakistan now has at least two men in custody on suspicion of helping to finance the Times Square bombing attempt.

The investigation into the May 1 attempt in New York has widened as US and Pakistani authorities follow the money trail. The official revealed the information on condition of anonymity to The Associated Press. The AP and other news organisations had previously reported that Pakistan had one man in custody.

It is not clear whether the two are members of the Tehreek-e-Taliban Pakistan.
COMMENTS
Comments are moderated and generally will be posted if they are on-topic and not abusive.
For more information, please see our Comments FAQ