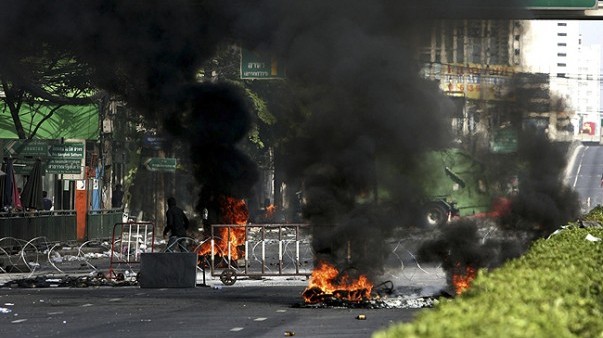 ---
BANGKOK: Raging violence in the Thai capital claimed three more lives on Saturday as gunfire and explosions echoed around tense streets where there have been pitched street battles between troops and protesters.

"The current situation is almost full civil war," said Jatuporn Prompan, a key leader of the protesters known as the "Red Shirts". "I am not sure how this conflict will end," he said after almost two days of clashes between army troops and protesters left at least 17 dead, bringing to almost 50 the number of fatalities during the Reds' two-month protest.

An AFP photographer on Saturday saw the lifeless bodies of three people lying on the ground on a road north of the Red Shirts' vast encampment. The circumstances of the deaths were not immediately clear but the military posted a sign declaring it a "live-firing zone".

Gunfire erupted elsewhere and smoke rose from burning tyres as a group of protesters faced off against troops in a separate area where major clashes occurred on Friday.

The neighbourhood of wide streets and embassies also includes a financial district and the Suan Lum night market popular with foreigners. Police said that hundreds of demonstrators had remained in that district despite a government operation Friday aimed at clearing protesters from the area after they had spilled out of their main encampment.

"The situation is under control and has been resolved in many spots but the military operation will continue because there are many thing to do to restore normality," government spokesman Panitan Wattanayagorn said. Numerous M-79 grenades were fired at security forces in various areas on the fringes of the protest site overnight, he said.

The rally site, where demonstrators sleep on mats on the ground and listen to speeches and music blasted from giant speakers, stretches for several square kilometres. It is fortified with bamboo stakes and tyres.

According to the official Erawan emergency centre, the death toll from Friday's clashes was 16, all of them Thais, and most of them victims of gunshots. Another person had died on Thursday night. "The toll keeps rising as street fighting was raging in the city until midnight," said an official from the centre. The official toll did not include the three victims seen by AFP.

Emergency services said 141 people had been wounded, three of them foreigners from Canada, Myanmar and Poland. Their condition was unknown. The France 24 television station earlier said one of its journalists -- a Canadian -- had been shot and gravely wounded. Two Thai reporters were also hurt, their employers said.

Thousands of anti-government protesters have essentially turned a large area of central Bangkok into occupied territory for two months, crippling an upscale retail and hotel district and disrupting daily life for ordinary residents in the city of about 12 million people.

The subway system and elevated train lines were shut on Saturday for safety reasons after the violence.
COMMENTS
Comments are moderated and generally will be posted if they are on-topic and not abusive.
For more information, please see our Comments FAQ