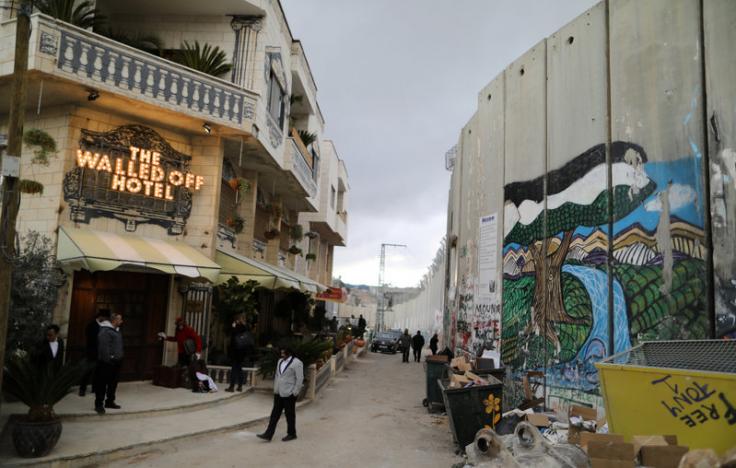 ---
BETHLEHEM, WEST BANK: Under an army watchtower and across the street from the concrete wall Israel has built in parts of the occupied West Bank, street artist Banksy has opened a guesthouse in the Palestinian city of Bethlehem.

In the revered birth town of Jesus, the Walled Off hotel stands three storeys high. Its bedroom walls and hallways are decorated with the mysterious artist's stencil graffiti work --one shows an Israeli soldier and masked Palestinian youth having a pillow fight, and a statue of a chimpanzee bell-boy stands at the entrance, clothes falling out of the suitcase he holds.

Pakistani artist competes in Europe's largest street art festival

The hotel, converted from a pottery workshop, has been styled to resemble "an English gentlemen's club from colonial times", a statement from the artist said, in acknowledgement of the historical role Britain played in the Middle East.

But the decor has been spiced up with statues choking on tear gas, cherubs hanging from the ceiling, their faces covered by oxygen masks and oil paintings of refugee life jackets washed ashore.

The hotel was set up in secrecy over the last 14 months - Israeli military authorities in the West Bank did not immediately respond when asked if they had been aware in advance.

Banksy, whose real name is not known, described his guesthouse as having the worst view of any hotel in the world: Every room overlooks the barrier which is a symbol of oppression for the Palestinians.

Israel began building it in 2002 at the height of a Palestinian uprising in which Israeli cities were rocked by frequent Palestinian suicide bombings.

Palestinians dub it an "apartheid wall" and an Israeli attempt to grab land in the West Bank, which they want along with Gaza and East Jerusalem, for a future state.

The Banksy statement said the hotel "offers a warm welcome to people from all sides of the conflict and across the world" and was financed by the artist.

Gentle music from a self-playing pianola fills the candle-lit dining room where a framed painting of Jesus looks up at three warplanes, stencilled on the wallpaper above.

Word on the street: Bringing graffiti art into mainstream

The hotel also has its own art gallery and an exhibition dedicated solely to the wall, which features contributions from Palestinians and Israelis.

The Walled Off is Banksy's biggest project since the 2015 "Dismaland" theme park at the English seaside, where staff carried balloons proclaiming "I'm an imbecile" and model boats full of refugees floated in a pond.