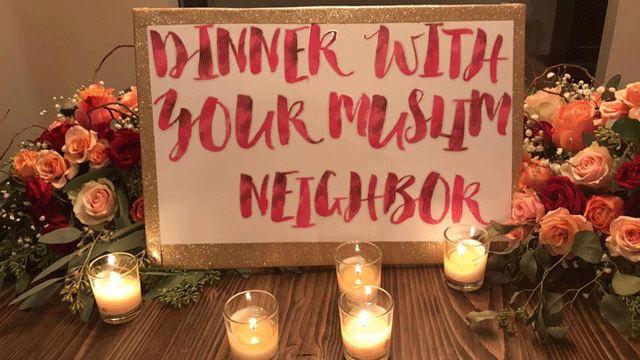 ---
A Detroit-based social worker and blogger is using food to help people understand her faith.

Amanda Saab who is also the first woman to compete on

Fox's Masterchef

in a headscarf, has been inviting guests to her home for over a year to have open conversations about being Muslims in America today, over a freshly cooked meal prepared by herself.

Muslim-owned Canada restaurant offers free meals to the needy

Saab thought of the idea while watching the news after work one day. She wrote on her blog how frustrated she had become with the way Islam was depicted in a negative light. It occurred to her that she wanted to make herself more available and welcoming to people who may have questions about Islam.

https://www.instagram.com/p/BJEnqpxjTpH/?taken-by=amanda.saab

Initially, Saab and her husband invited a small group of colleagues, friends and strangers for a small interfaith dinner. Since then, they've had several dinners and she has also taken the event to universities.

https://www.instagram.com/p/BN-5Zv2hL9b/?taken-by=sia_umd

"For us, culturally and religiously, it's so important to be hospitable and treat others with respect and kindness," Saab said. "So lets start at a basic fundamental need that we all need, which is nourishment and let's not only nourish our stomachs, but let's nourish our minds."

https://www.instagram.com/p/BQdR2_ggwHy/?taken-by=amanda.saab

Earlier this week, Saab and a few of her guests gathered at her home in Detroit for a meal. According to a Facebook post, the menu offered salmon, pesto chicken with pasta, roasted potatoes, asparagus, fig and goat cheese crostini and a citrus salad.

Saab then took to Facebook to thank her guests for their compassion and willingness to engage in an important and invigorating conversation.


[fbpost link="https://www.facebook.com/amanda.b.saab/posts/10154529152745817"]




"I enjoyed hearing your perspectives and experiences and hope we can continue to work together to make our world the place we want it to be," she wrote.


COMMENTS (2)
Comments are moderated and generally will be posted if they are on-topic and not abusive.
For more information, please see our Comments FAQ