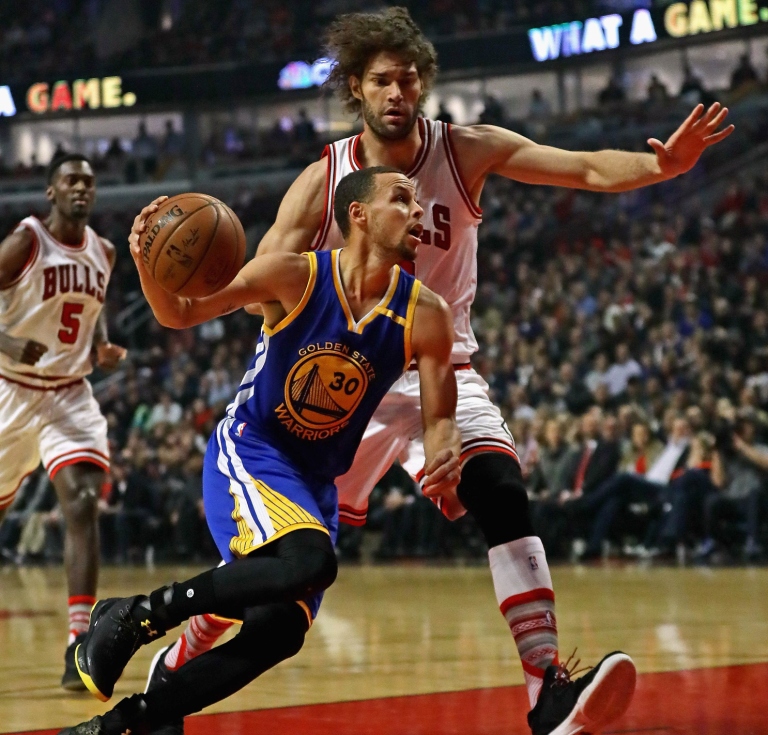 ---
LOS ANGELES: Golden State, adjusting to life without injured Kevin Durant, fell to the Chicago Bulls on Thursday, just the second time in nearly two years the Warriors have suffered back-to-back NBA regular-season defeats.

Jimmy Butler scored 22 points to lead four Bulls players in double-figures in the 94-87 triumph.

The Warriors' points total was their season low, and they lost a second straight regular-season contest for the first time since April of 2015.

The Warriors had fallen 112-108 to the Washington Wizards on Tuesday, when Durant limped out of the game in the first quarter with what was later diagnosed as a left knee ligament sprain and bone bruise.

The former NBA Most Valuable Player will be sidelined indefinitely, although the Warriors, who have already secured a playoff berth, haven't ruled out a return before the end of the regular season.


Johnson wants Kobe's magic at ailing Lakers


"Obviously, you feel for him and want him to get healthy as fast as possible but not rush it because we have a long journey ahead of us going into the playoffs," said two-time NBA MVP Stephen Curry. "Next man up mentality, but obviously it will be tough to replace a guy like KD."

Curry led the Warriors with 23 points, but he and "Splash Brother" teammate Klay Thompson combined to make just three of 22 three-point attempts.

Overall, the Warriors were six-for-30 from three-point range in the defeat. Thompson added 13 points and Draymond Green contributed a dozen in the defeat.


Curry stings Hornets with 11 threes in routine win


The Warriors had led 51-47 at halftime, and erased a five-point deficit with 9:09 to play thanks to three baskets from Curry and a driving layup from David West that gave Golden State an 85-84 lead with 5:43 to go.

But Golden State couldn't maintain the momentum.

Veteran Dwyane Wade scored 12 points for Chicago, putting the Bulls up 88-85 with 2:16 remaining.

Bulls reserve Paul Zipser closed out a 7-0 scoring run with three-pointer that stretched Chicago's lead to six points with 1:41 to play.


Former D-League duo lift Mavs over Spurs


With the Warriors struggling from the floor, Chicago closed out the victory with a series of free-throws.

The Bulls won for the fifth time in six games improving to 31-30 — sixth in the Eastern Conference.

The Warriors slipped to 50-11 — still the best record in the league.
COMMENTS
Comments are moderated and generally will be posted if they are on-topic and not abusive.
For more information, please see our Comments FAQ