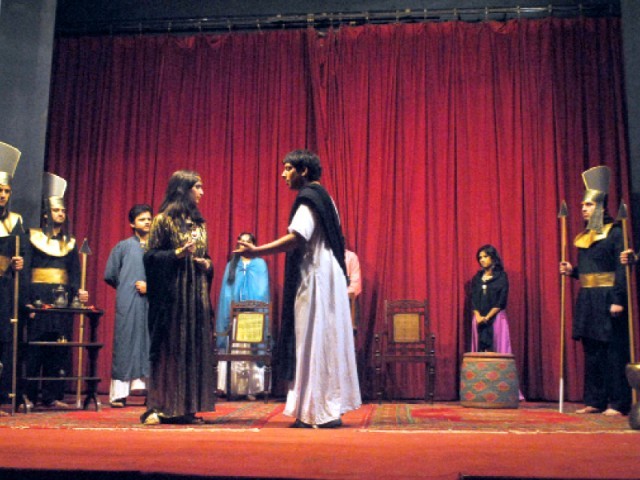 ---
PESHAWAR: Sophocles classic 'Antigone' was adopted for theatre by the Edwardes college dramatic society on Thursday. The play was performed at the old hall of the college.

It is based on a famous Greek tragedy, written by Sophocles in 442 BC, and revolves around a young girl Antigone's defiance against the tyrannical orders of the king. The drama depicts the human sufferings owing to dictatorial laws and resistance of a young woman against the system.

The play opens with Antigone trying to honour her brother after death and give him burial rights after he was killed fighting on opposite sides of a war in ancient Thebes, Greek. Creon, who was now the king, issued a decree that those who have fought against the king must not be given any burial rights and anyone who defies the order shall be put to death.

Antigone, who was also the fiancée of Haemon, The Prince, was faced with a horrific situation. Her brother Polynices' body remained unburied, exposed to the ravages of wild animals. If she tried to bury him, she would face a brutal execution. Antigone preferred honour and family value over her life, and decided to bury his body and face the consequences.

Hyderabad shows off its acting talent as drama festival kicks off

"It is a story of a young girl willing to do anything to honour her family even at the cost of death and was the first to violate it for the better interest of the society," director Professor Nasir Iqbal told The Express Tribune.

This year, he continued, The Antigone was brought to the stage to give the viewers a flavour of Greek tragedy by Sophocles. This drama has more importance as far as gender role, justice, family and ethical values are concerned.

The director believed that though the drama was written in ancient Greek, it was still in view of our circumstances, women face a number of issues, social norms, regulations and traditions that curtails their freedom and free spirit. The play gives them the lesson to stand against all odds and face every condition courageously, he added.

The historical Edwardes College has been staging classics since the creation of the institution and has become a centre for creating legends. Legendary Indian actor Prithviraj Kapoor and Pakistani actor Qavi Khan are among the few names of people who started their career from the college's art platform.

Veteran film artiste plays unique role at drama festival

Classics like 'Volpone', 'Hamlet', 'Macbeth', 'Dr Faustus' and a 'Julius Caesar and Antony and Cleopatra Medley', and Les Miserables have been staged at the college successfully. Equally remarkable are the production of modern plays like 'A Man for All Seasons' and 'And Then There Were None.'

"Drama plays a vital role in understanding human emotion and sentiment," said Ehtesham, a faculty member at the English department. 'Antigone' would give more awareness to young artists and be helpful in training them as future artists.

"The stage is a tool for making societies more empathetic and humane. Theatre increases emotional and cultural intelligence," he remarked.
COMMENTS
Comments are moderated and generally will be posted if they are on-topic and not abusive.
For more information, please see our Comments FAQ