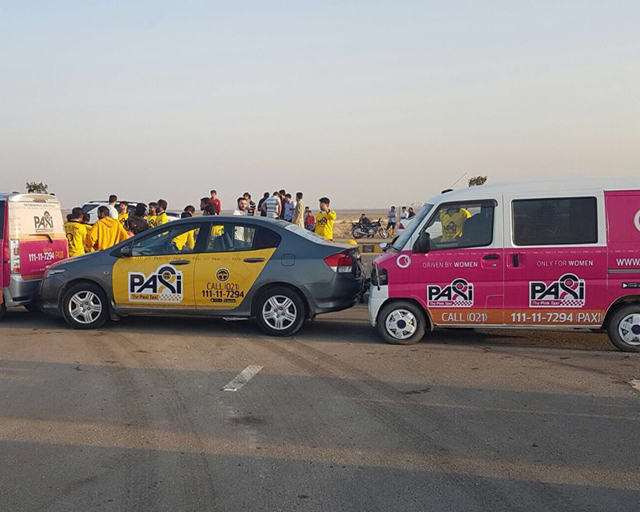 ---
With the success of ride-sharing services such as Careem and Uber in the country, more and more players are entering the app-based business with the hope of benefiting from Pakistan's booming e-commerce market.

The latest entrant to the market is Paxi. However, unlike the other ride-sharing services which conventionally rely on apps, Paxi goes beyond just app.

Considering that majority of people in the country are still not using smartphones or not tech-savvy enough to use the app to hail the ride, Paxi is offing services through call centre and SMS. The new services will be kicked off from Karachi.

"Besides an app, we're also setting up a call centre, where customers can call and book a ride," said Zahid Sheikh, CEO and co-founder of Paxi.

Explaining how it will work, Sheikh said: "When a customer calls at the call centre, the representative sitting there will create an account of the customer using their cell number and issue them a 4-digit PIN. Once the ride comes to the customer, they'll have to give the 4-digit code to initiate the ride."

Additionally, you will be able to book your ride by simply texting their helpline.

Not only that, you'll also be able to hail Paxi on the road. In order to make sure that their cars are recognisable so a customer can stop and hail it, the company plans to vinyl wrap all their vehicles by their services. Further, the drivers, who are called Pilots by the company, will be uniformed.




Further, he revealed that the company has decided to launch the services of Paxi-Taxi on March 23 – Pakistan Day.

Paxi has already launched it's Bike-Taxi services on trial basis. Explaining why they decided to launch the bike service, the CEO said in a city like Karachi where traffic congestion makes travelling really difficult, bike-service is ideal for short distance travel.

By women, for women

Besides Paxi, the company is also launching a women-exclusive ride hailing service called 'Pink Taxi'.

Careem introduces 7 female captains to its fleet

The aim of this service is to provide an environment where not only passengers feel comfortable but is also safe for women pilots, Sheikh said. The CEO said they want to give women an equal opportunity. "If our women can fly planes, why not Paxi?" he remarked.

However, this is not the first time a ride-hailing service has introduced a female-exclusive service. In December last year, taxi-hailing service Careem also introduced women drivers.




While Careem's taxis driven by women pick up both male and female customers, Pink Paxi will only cater to female customers. The company plans to launch Pink Taxi on March 8 –  International Women's Day.

Responding to a question whether it's a wise decision to enter the market at a time when authorities have launched a crackdown against existing ride-hailing services, Arif Khan, co-founder, said that they have nothing to fear as they have completed all pre-requisites and registered with the authorities as an IT-transportation company.

[fbpost link=""]

Explaining why they are different from other ride-sharing services, Khan claimed that unlike other services, Paxi is a total indigenous firm with its roots in the country and won't be taking profits out of the country. "When you make money from a country, it needs to go back into its economy,"

Whether Paxi will be able to make its mark and provide a safe and affordable transportation solution to the people of Karachi or if it'll go into oblivion without making any significance difference, only time will tell.

[brid video="119828" player="7247" title="These womenexclusive taxis will hit Karachis streets today"]