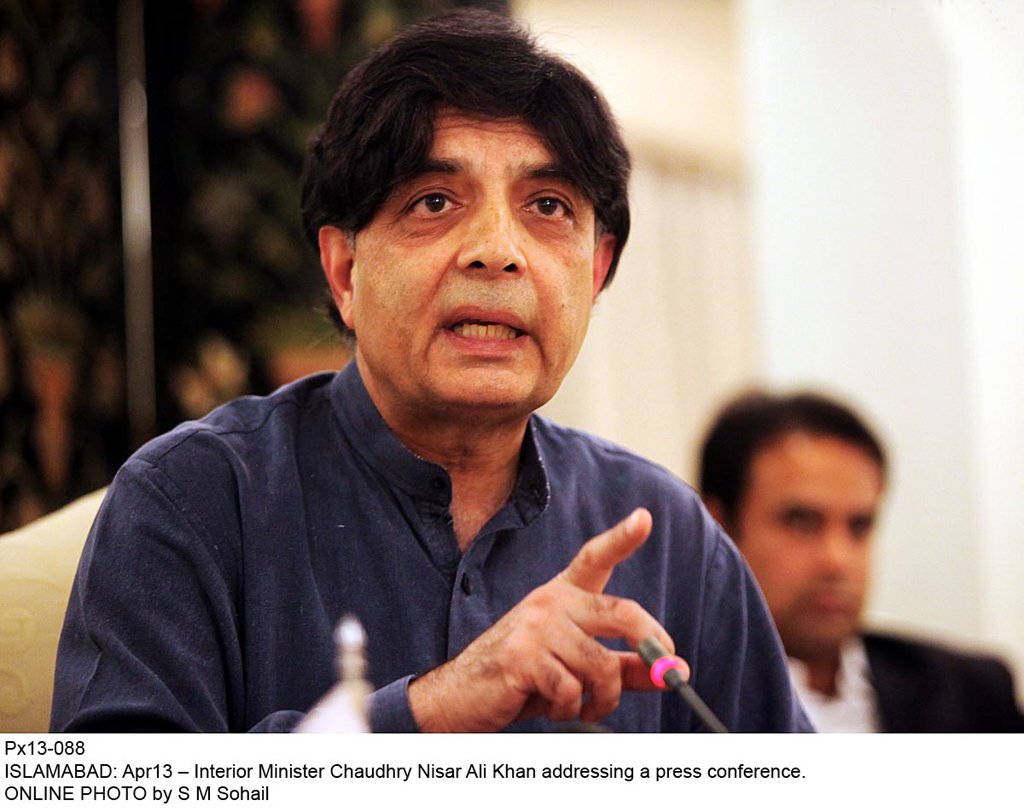 ---
ISLAMABAD: Interior Minister Chaudhry Nisar Ali Khan said good coordination and close cooperation between civil and military leadership is in the national interest of the state.

The interior minister stated this while addressing senior military officers from the National Defence University in Islamabad on Thursday.

"Better civil-military relations in Pakistan are always a sore sight for our foes as well as those masquerading as our friends. The enemies of Pakistan always want to see cleavage in this relation for their ulterior ends. Better civil-military relations as of today are in the interest of Pakistan and delivering desired results," said Khan.

We will hunt terrorists in, outside the country: Nisar

Discussing internal security policy of the country, he said that the security issue today is a multi-pronged, multi-dimensional and multi-faceted issue. Today's Pakistan is faced with many challenges that require joint efforts by all organs of the state to overcome these problems. However, it must also be realised that the security situation in the country is manifestly better than the one prevailing in 2013.

Today's improved law and order situation is the result of our joint efforts and every institution of the state has contributed towards this improvement, observed the interior minister. The enemy has been weakened, but not completely eliminated. There is now an unholy alliance between our internal and external enemies which is blatant in its substance, he said.

The interaction that lasted for over two hours later turned into an interactive session wherein the participants expressed their views over the issue of national importance.

Anti-state elements create chaos in name of religion: Nisar

Responding to an observation of one of the participants about the situation in Afghanistan and the reports of another military intervention by the US under Donald Trump's government, Khan said massive military intervention in Afghanistan with over 150,000 men on ground could not bring peace in the war-torn country so one cannot expect that more of the same will bring about any improvement in the security situation in Afghanistan.

Published in The Express Tribune, March 3rd, 2017.
COMMENTS
Comments are moderated and generally will be posted if they are on-topic and not abusive.
For more information, please see our Comments FAQ