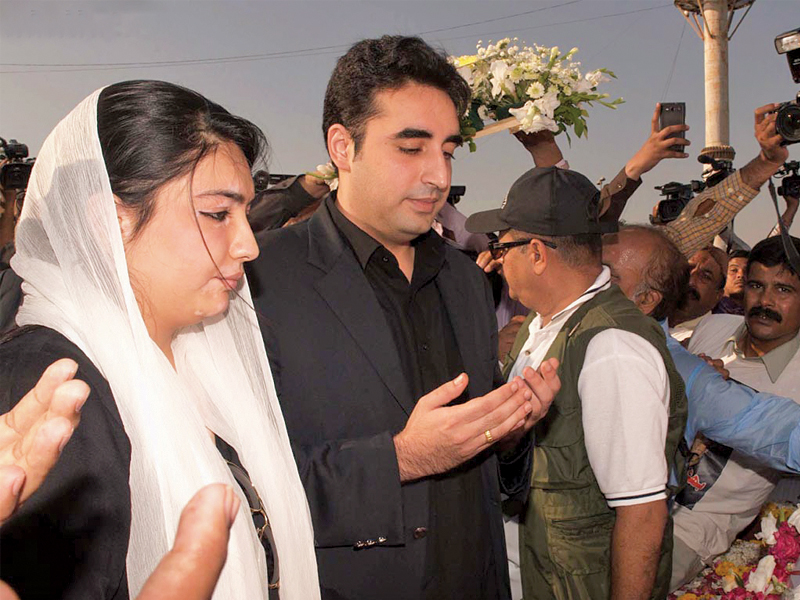 ---
Dynasties can get messy, very messy indeed. Whilst there is no suggestion that dynastic rumblings are going to go the way of the ruling family in North Korea, the ruling dynasty of the Pakistan People's Party (PPP) looks set for a period of disturbance. It was the murder of Benazir Bhutto in 2007 that set the stage for a struggle now beginning to play out. In the aftermath an unwieldy arrangement was cobbled together whereby the party had co-chairmen — Asif Ali Zardari and Bilawal Bhutto Zardari. Whoever thought this to be a recipe for stability has a severe deficit in the marbles department. There have been hints in the near past that all might not be sweetness and light between father and son, and now the sisters have joined the fray — supported it is reported by their brother.

The spark for this nascent revolt was the decision by Zardari senior to admit a former political rival, Irfanullah Marwat, into the PPP fold. There is a history. Specifically Benazir Bhutto had spoken in 1991 about the alleged atrocities, including rape and torture, which had been suffered by women when Marwat was a home adviser in Sindh. Families have long memories and the Bhutto daughters were quickly onside with their late mother with the discreet support of their brother.

A revolt within the family was always latent, and as the children have grown older they have also grown in confidence, both public and private. The meeting between Zardari and Marwat in Dubai in the last week was sufficient to spark a reaction from the three scions acting in consort. This cannot bode well for party unity in general terms as the three will have supporters that may form the basis for splits and factionalisms, and with an election a year away a divided party is not going to help the PPP that is anyway on the political back foot nationally. With Mr Zardari harvesting electables wherever he can in order to boost the chances of the party in the election next year, the potential for discord only increases. We watch with interest.

Published in The Express Tribune, March 3rd, 2017.

Like Opinion & Editorial on Facebook, follow @ETOpEd on Twitter to receive all updates on all our daily pieces.
COMMENTS
Comments are moderated and generally will be posted if they are on-topic and not abusive.
For more information, please see our Comments FAQ