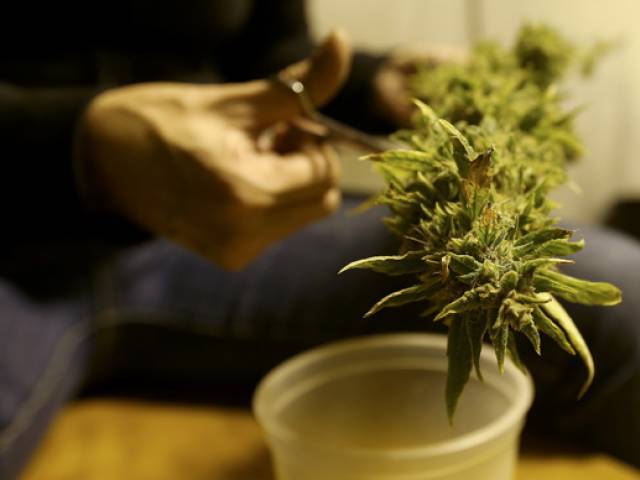 ---
LIMA, PERU: Ana Alvarez, a working mother of two in Lima, never imagined being on the frontlines of a fight for marijuana in conservative Peru.

But a police raid on a makeshift cannabis lab that she and other women started to soothe the symptoms of their sick children has roused support for medical marijuana, prompting President Pedro Pablo Kuczynski to propose legalizing it in the latest pivot away from decades-old restrictions on drug use in Latin America.

Alvarez said cannabis oil is the only drug that helped contain her epileptic and schizophrenic son's seizures and psychotic episodes. She and other women in similar situations formed the group Searching for Hope to seek legal backing as they honed techniques for producing the drug.

"We wrote to Congress, to the health ministry," Alvarez said from her apartment as her son played in his room. "We got two negative responses."

Mexican Senate approves medical marijuana bill

But the police bust put the women's plight on national television, triggering an outpouring of sympathy as they marched with their children in tow to demand police "give us our medicine back."

"When we saw their reality, we realized there's a void in our laws for this kind of use" of marijuana, said cabinet advisor Leonardo Caparros. "We couldn't turn a blind eye."

It is unclear if the right-wing opposition-controlled Congress will pass Kuczynski's proposed legislation, which would allow marijuana to be imported and sold in Peru for medical reasons and could permit domestic production after two years.

Regulate cannabis potency to reduce psychosis risk, experts say

Kuczynski, a 78-year-old socially liberal economist, once provoked an uproar for saying that smoking a joint "isn't the end of the world."

But an Ipsos poll conducted following the raid showed 65 percent of Peruvians favor legalizing medical marijuana, and another 13 percent back legalizing the drug for recreational use.

If the bill is passed, Peru would follow neighboring Chile and Colombia in legalizing the medical use of marijuana. Mexico's Senate has approved a bill to permit the use of medical marijuana, while Uruguay has fully legalized cannabis from seed to smoke.

In the meantime, Searching for Hope has turned to the black market. Member Roxana Tasayco said cannabis oil had given her terminal cancer-stricken mother her appetite back and calmed her vomiting and nausea.

"It's not going to cure her but it'll give her a better quality of life in her last days," said Tasayco. "If I have to break a few laws to do that for her I will."