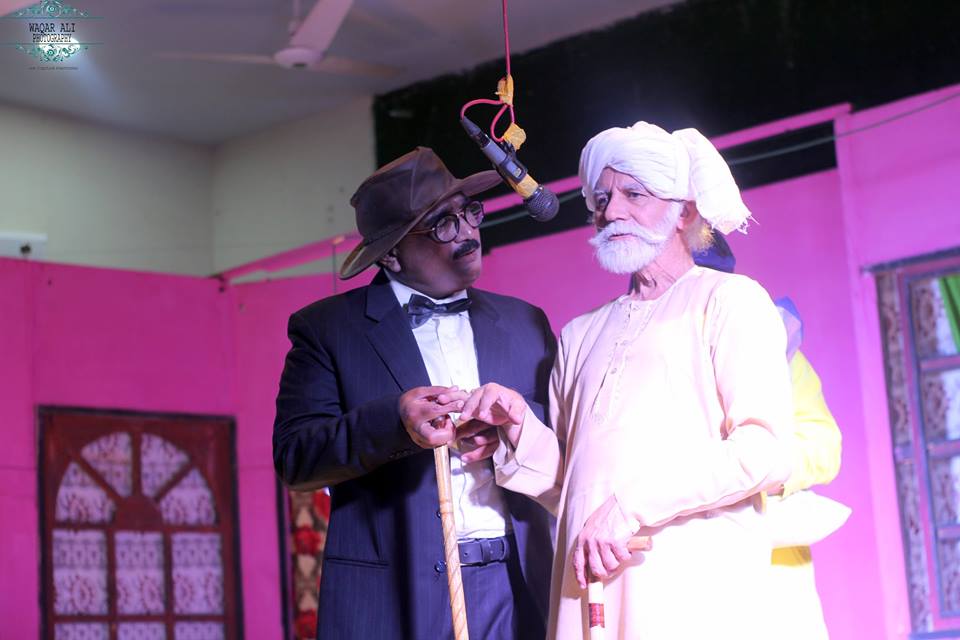 ---
HYDERABAD: The curtains were pulled across. The spotlights homed in on the eight characters showing anxiety about an unknown.

This may have been the opening act of the stage play 'Inquiry Officer' but it also reflected the feelings of the organisers, cast and crew of the five-day Sindhi Classic Drama Festival.

Sponsored by the Sindh culture department, the event kicked off in Hyderabad on Wednesday evening. The festival will showcase one classical drama every night at Mumtaz Mirza Auditorium, aiming to resuscitate a moribund Sindhi theatre.

Acting competition: PNCA to host youth drama festival

On the second day, writer late Shaikh Ayaz's drama Ranikot Ja Dharyal [Robbers of Ranikot], directed by Naz Sahito, was staged. Abdul Qadir Junejo's drama Lunch Break directed by Nazar Junejo, late Muhammad Usman Deeplai's Dukar [Drough] directed by Ashfaq Qureshi and late Nisar Hussaini's Meet The Watayo, directed by Younus Sanaim, will be performed on the third, fourth and fifth days, respectively.




"The taste of Sindhi stage has been lost for years, leaving behind the adverse impacts on cast, crew and audiences [who are] deprived of this form of art," said journalist Naz Sahito, who is the protagonist of this five-day event. "We have begun the struggle to revive the stage thanks to the government's support."

Sahito's observation about the ongoing trough in Sindhi theatre, which set off in 1980s, found an echo among others speakers who expressed their views at the inaugural session.

"One will be surprised to see the impact which [the] drama had on the transformation of Sindhi society around a hundred years ago," said Prof Inamullah Shaikh, the regional director of Allama Iqbal Open University. That influence, he added, continued till the 1970s before the era of its erosion started.

Senior stage artist Ayaz Alam Abro asked the people to come to the theatre with their families, expressing hope of a renaissance of this art with which he remained affiliated for over four decades.

"Sindhi society has faced multi-faceted decay in recent times," contended Centre of Excellence in Arts and Design director Bhai Khan Shar . He suggested that, like the characters in a play, all the people will have to play their respective roles for social uplift.




Inquiry Officer

The plot of Inquiry Officer, directed by Rafique Essani, depicts corruption, greed, fear, sycophancy and deception. It centres around an impostor who lands in Tharparkar pretending to be a British inquiry officer.

The local mukhtiarkar, municipal officer, postmaster, doctor, teacher, police inspector, police head constable and wadero [feudal landlord]are the ones who feel most perturbed by his visit.

Veteran film artiste plays unique role at drama festival

"It seems he has been sent by the collector. He will secretly meet people [in the town] and send reports [against us] to the high-ups," says the mukhtiarkar, whose part was played by actor Israr Laghari.

"My duty is just to stamp the envelopes. Why should I worry?" asks the postmaster, acted by Shahbaz Baloch. But the mukhtiarkar quickly reminds of his crime of unlawfully opening all envelopes that pass through his office.

"He looks like a burly man ... wears a full suit and an Akubra hat and carries a stick in his hand," says wadero Qadir Baksh, senior actor Muhammad Hussain Qadri, as he describes his appearance. "I felt a little scared when he gazed at me in the market."

The inquiry officer, whose character was performed by Aqeel Qureshi, stays in a travelers' lodge and eats for free from a local bistro, employing his talents of chicanery and bluff.




Before long he gets to interact with the government servants and the feudal landlord and plans a one-by-one meeting with those eight characters. But that personal encounter is preceded by a drunken orgy, arranged at his request together by the mukhtiarkar, the police inspector and the wadero. That party also relieves apprehensions of the public servants about an unfavourable inquiry report.

"Take something in your pocket [as bribe]," the mukhtiarkar advises everyone. The inquiry officer extracts money, gold rings and chains, watches and other belongings from each of the eight characters and decamps from the town.

But he leaves behind a letter for the postmaster, which shocks all that they have been hoodwinked by an impersonator who by professions was a journalist habitual of defrauding the people.

Drama festival: Unnecessary dance sequences make for a bad performance

The drama, which lasted for a captivating 100 minutes, was performed by 21 characters in four acts. "It's been hardly once or twice since 1980, that this play has been staged in a theatre," said director Essani, pointing out the cost, lack of interest in the stage and direction as common barriers.