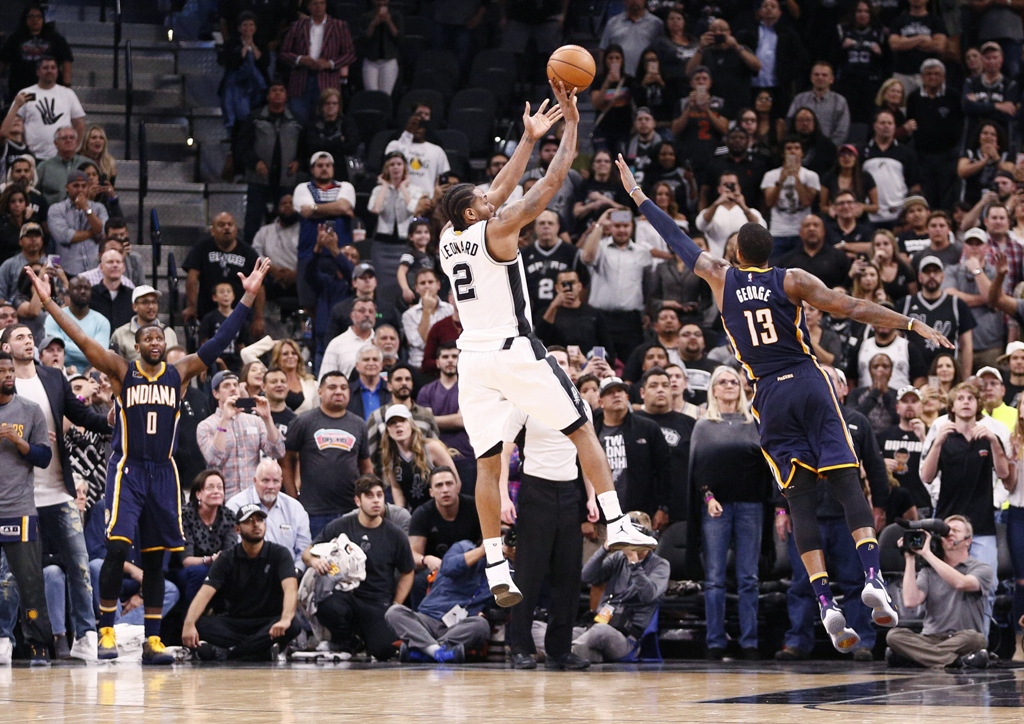 ---
LOS ANGELES: Kawhi Leonard nailed a clutch jump shot with two seconds remaining to lift the San Antonio Spurs to a 100-99 victory over the Indiana Pacers on Wednesday.

Leonard's game winning shot capped a 31-point performance for the American in front of a crowd of 18,400 at the AT&T Center arena.

Leonard drained the shot despite being guarded by Pacers star Paul George. It was then George's turn at glory but his shot from beyond the arc bounced harmlessly off the rim, ending the contest.

"Coach drew up a good play and LaMarcus [Aldridge] set a good screen for me," said Leonard about his final shot. "We had about nine seconds. I wanted to take my time and try to get off a good shot and it ended up going in for me."

The Spurs led 98-97 before Danny Green missed a layup with 1:46 to play. Myles Turner took advantage on the other end with a jumper 11 seconds later to give Indiana a 99-98 lead.


Roundup of 2017 NBA trade deadline


After a pair of empty possessions by both teams, Monta Ellis missed two free throws for the Pacers with nine seconds to play, giving San Antonio a final shot at the victory.

"There's no A-B-C-D to Kawhi's game — he's going to go A to B with no shortcuts," said George. "I knew he was going to try to work his way in. Kawhi is really good at getting to a spot — he made some tough shots and the last one was a tough one."

Elsewhere, Anthony Davis reached the 7,000 point milestone and Jrue Holiday snapped his scoring slump as the New Orleans Pelicans defeated the Detroit Pistons 109-86.

Davis scored 24 of his game high 33 points in the opening half to become the seventh-youngest player in league history to score 7,000 points.


American football player faces criminal charges after issuing 'terroristic threats'


Holiday finished with 22 points for the Pelicans who improved to 24-37 and ended a three game losing streak.

The Pelicans began a 28-17 run late in the third quarter and never looked back in front of a crowd of 14,400 at the Smoothie King Center.

The Pistons looked like a tired team as they fell to 29-32 on the season.

They shot three of 17 from the free-throw line and three of 23 from three-point range.

Forward Jon Leuer led the Pistons with 22 points, while center Andre Drummond was ejected late in the third quarter on a foul and finished with 13 points and 17 rebounds.

In Toronto, the Washington Wizards seized control early in the second quarter and never looked back, with a 105-96 win over the Toronto Raptors who had their four game win streak halted.


Wiggins' big night goes to waste as LeBron takes over


Bojan Bogdanovic came off the bench to score 27 points for the Wizards who won their second in a row.

The Raptors led by two points after the first quarter, but the Wizards used a surge early in the second quarter and were control the rest of the way.

Washington led by as many as 24 points late in the first half.

In Sacramento, Brook Lopez scored 24 points and grabbed eight rebounds, and the Brooklyn Nets snapped their 16-game losing streak with a 109-100 victory over the Sacramento Kings.

The New York Knicks meanwhile kept their slim playoff hopes alive with a 101-90 win over the Orlando Magic, behind a 20 point performance from Kristaps Porzingis.
COMMENTS
Comments are moderated and generally will be posted if they are on-topic and not abusive.
For more information, please see our Comments FAQ