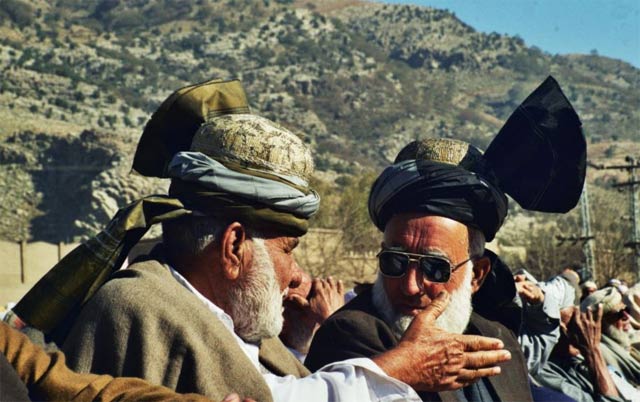 ---
ISLAMABAD: The federal cabinet on Thursday approved in principle recommendations of the Federally Administered Tribal Areas (Fata) reforms committee, which includes the merger of the tribal areas with Khyber-Pakhtunkhwa and repeal of the Frontier Crimes Regulation (FCR).

Chairing the cabinet, Prime Minister Nawaz Sharif said the people of Fata, Gilgit Baltistan (G-B) and Azad Jammu and Kashmir (AJK) will be given their due rights.

Federal cabinet takes up FATA reforms today

"The cabinet accords in principle approval to the recommendations of the Fata reforms committee." PM House said in a statement. K-P Governor Iqbal Zafar Jhagra was also in attendance.


The cabinet accords in principle approval to the recommendations of the FATA Reforms Committee.

— PML(N) (@pmln_org) March 2, 2017


Speaking on the occasion, PM Nawaz stressed the need to focus on the development of under-developed areas to improve the living standards of the people.

The meeting was told that the process of mainstreaming of Fata will be carried out in a time span of five years.

Later, committee's chairman, adviser on foreign affairs Sartaj Aziz told journalists that necessary amendments will be made in the constitution to enable people of Fata elect their representatives to K-P assembly for the general elections in 2018.

FCR, he added, would be repealed and replaced with a new Rawaj system as per the recommendations.

The recommendations include setting a schedule for the repatriation of all temporarily displaced persons (TDPs) by April 30 this year, while the reconstruction in the areas would be completed by 2018.

The much talked about, but equally delayed, Fata reforms package was pulled out at the 11th hour from the cabinet's meeting on February 7, 2017, eliciting widespread criticism of lawmakers of Khyber-Pakhtunkhwa (K-P).

The same thing happened on December 16, 2016, when the cabinet deferred the passage of reforms package for Fata on the grounds that a broader consensus was needed. The broader consensus consisted of taking two of the government's allies into confidence.

FATA reforms for dummies  

The two political allies of the government – Jamiat Ulema-i-Islam (JUI-F) and Pakhtunkhwa Milli Awami Party (PkMAP) – voiced their concerns since day one. JUI-F's chief Maulana Fazlur Rehman recently addressed a public gathering stating that his party was in favour of mainstreaming Fata but not its merger with K-P. Rehman later softened his stance about holding referendum in Fata by stating, "Let people of Fata decide their fate instead of outsiders."
COMMENTS (5)
Comments are moderated and generally will be posted if they are on-topic and not abusive.
For more information, please see our Comments FAQ