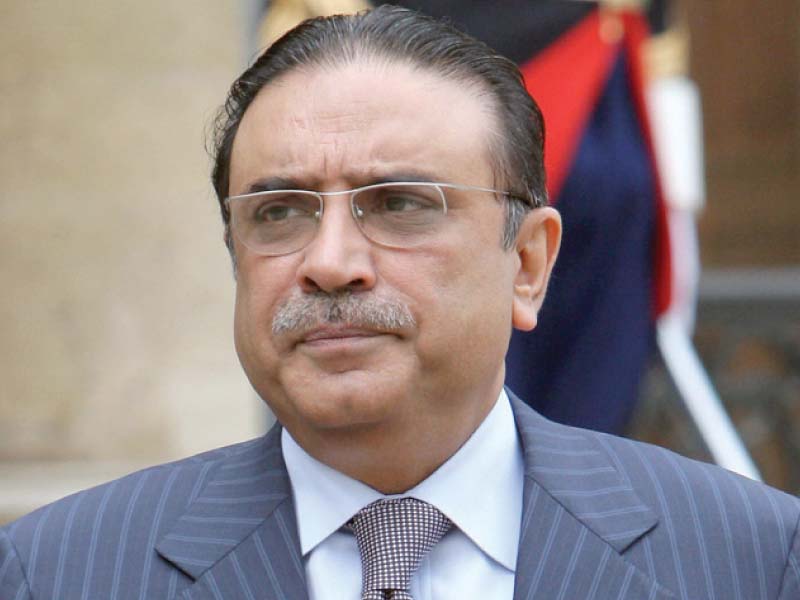 ---
ISLAMABAD: After an absence of almost one-and-a-half year, PPP co-chairperson and former president Asif Ali Zardari has landed in Islamabad and will stay there for around two weeks, PPP sources said.

This is the first visit of the former president to Islamabad since he made a hard-hitting speech, where he lashed out at the military establishment for overstepping its domain, back in June 2015.

Zardari – who stayed abroad during this period – returned to Karachi in December last year on the eve of the death anniversary of his wife, former prime minister Benazir Bhutto.

Bilawal supported sisters in revolt against Zardari

He went abroad once again in January this year and was supposed to return after the Supreme Court decision on Panamagate case.  However, he came back after military courts issued popped up.

PPP sources said Zardari will be shuttling between Islamabad and Lahore during the next two weeks.

Zardari earlier scheduled to reach Islamabad on Thursday for an All Parties Conference (APC) the PPP announced to organise to muster support of other political parties for its stance on military courts.

However, the PPP appears to have been left alone after Tuesday's unusual agreement between the government and most of the mainstream political parties that agreed to set up military courts for yet another two years.

To reassess the situation, Zardari has rushed to Islamabad where he is holding meetings with senior leaders of the party. A major opposition group – Imran Khan's PTI – has reportedly declined to take part in the huddle the PPP plans to hold on March 4 at Zardari House in Islamabad.

The PPP has been boycotting huddles hosted by National Assembly in his chamber since last week. The PPP opposes the new draft of constitutional amendment in which terms of religious and sectarian extremism have been deleted.

It claims that the government has deleted the military court's clearly defined scope to appease religio-political parties. The earlier scope – as adopted in 21st constitutional amendment in 2015 – limited the courts to try terror groups waging wage war in the name of religion or sect or fight with armed forces.

Zardari had earlier tasked some senior party leaders to approach other parties for the moot. During the last few days, these leaders approached many parties and extended an invitation for the APC.

However, after the government managed to garner support of most of the groups on Tuesday, the PPP has apparently also softened its stance and renamed the moot as multi-party conference rather than an APC. Sources said the PPP might also include few other items on agenda of the meeting, instead of limiting it to the military courts.

PPP will once again rule Pakistan, says Asif Zardari upon return

"Most of the political parties have accepted our invitation. We would like to hear from them on which clauses agreement has been reached and where consensus is yet to be achieved," Nayyar Bukhari who was leading Zardari's effort to convene the meeting had told The Express Tribune on Tuesday.

The government has already summoned the National Assembly's session from March 6. The presidency has also issued a formal notification in this regard.

Finance Minister Ishaq Dar, who was the government's interlocutor to approach political parties for agreement on military courts, said once the draft bill on constitutional amendment was tabled in parliament, the PPP or any other party could also suggest their amendment to it before a final vote.

Published in The Express Tribune, March 2nd, 2017.
COMMENTS (3)
Comments are moderated and generally will be posted if they are on-topic and not abusive.
For more information, please see our Comments FAQ