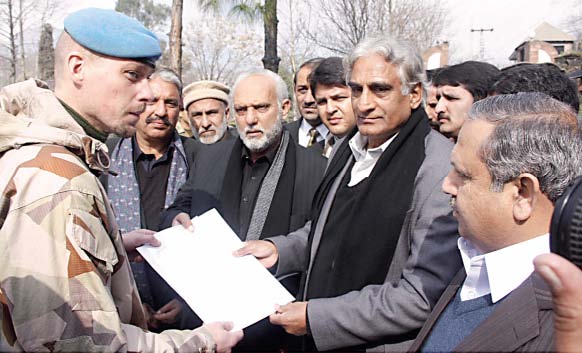 ---
MUZAFFARABAD: Despite the financial crisis in Azad Jammu and Kashmir (AJK), Pakistan Muslim League Nawaz (PML-N) government approved to increase lawmakers' salaries by an unprecedented 50 per cent.

This was the crux of the five-day session of the AJK Legislative Assembly that concluded on Wednesday with the approval of free medical care and nearly 200 percent rise in house rent for elected representatives.

Opposition parties boycotted the session, terming the raise in lawmakers' perks a bid to humiliate the region's unemployed youth.

"Contradicting the government claims regarding austerity measures, they raised the salaries of ministers and lawmakers turning the slogan of good governance into a big joke," Abdul Majid Khan, the parliamentary leader of Pakistan Tehreek-e-Insaf (PTI) told media persons.

AJK governance: JI extends support for education reforms




Member of the Kashmir Council Younas Mir also condemned the raise in lawmakers' salary, saying that while people in remote areas of Azad Kashmir continue to live without reliable access to clean  drinking water and proper healthcare, the ruling elite is doing everything to fill their own pockets with taxpayers money.

"We want to know what the incumbent government has given to the people in Azad Kashmir. Did they finish filling potholes in roads? Did the PML-N government succeed in providing free ambulances to patients in hospital everywhere in the region? Have they raised the allowances of Kashmiri refugees settled in Azad Kashmir?" Younas Mir asked.

Meanwhile, a call-attention notice submitted by a PML-N lawmaker regarding raising the allowance of Kashmiri refugees was turned down by Deputy Speaker  Farooq Tahir during the session. Instead, a written statement on the issue was provided to the lawmaker in question.

Welcome ceremony: Rashid says PML-N to bring progress in AJK

PML-N MLA Naseema Wani wanted to raise the allowances of Kashmiri refugees who migrated in 1989 from the Indian Occupied Kashmir and settled in various areas in Azad Kashmir.

"I received a written statement from the Finance Department … a mere formality on the issue. Refugees need attention … Their allowances must be increased because they are victims of the ongoing Kashmir liberation movement … We will never let them down. I do not care about my own (pay) raise as a lawmaker. We need to increase the allowances of the victims of the Kashmir struggle.  I hope in the next session, we will have a debate over this issue for the debate and actually increase the refugees' allowances," Wani added.

Published in The Express Tribune, March 2nd, 2017.
COMMENTS
Comments are moderated and generally will be posted if they are on-topic and not abusive.
For more information, please see our Comments FAQ