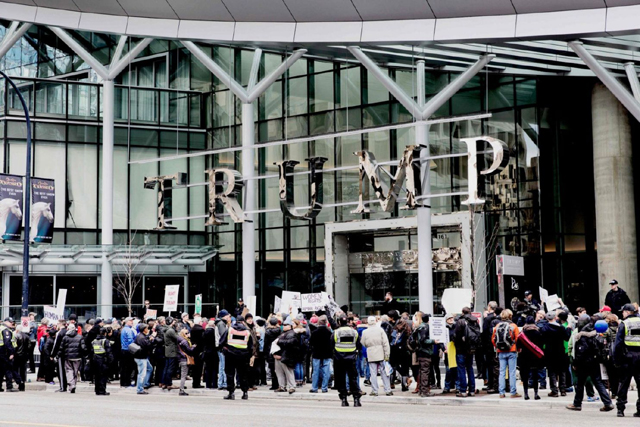 ---
OTTAWA: US President Donald Trump's two sons inaugurated a Trump International Hotel and Tower in Vancouver, Canada Tuesday as protesters outside chanted "Not in my city."

About a hundred protesters demonstrated in front of the building, one of Vancouver's tallest, as Donald Jr and Eric Trump joined Malaysia-based developer Joo Kim Tiah for the ribbing cutting.

NY senator urges Trump to reimburse NYC for security costs

Chants of "Dump Trump," "Not in my city" and "Humanity against Trump" went up from the crowd.

Another protest was expected later in the day outside the US consulate in Vancouver.

"We have had an unbelievable past year on so many fronts as a family," Donald Trump Jr said at a ceremony inside the hotel.

"Vancouver is one of the great cities of the world, truly one of the most beautiful places in the world and so fitting for the Trump brand, something we hold in the highest esteem," he said.

The Trump-branded building is the first to open outside the United States since the president's inauguration.

It boasts a spa designed by Ivanka Trump, the president's daughter, a Trump Champagne Lounge and other luxury amenities. Its construction, however, has been fraught with controversy.

"Trump's name and brand have no more place on Vancouver's skyline than his ignorant ideas have in the modern world," mayor Gregor Robertson said in a letter to the developer seen by AFP.

Vancouver city council member Kerry Lang called it "a beacon of intolerance, sexism and bullying."

Joo Kim Tiah, however, rebuffed calls to remove the Trump name from the 69-storey skyscraper, saying he is locked into a licensing agreement.

During its construction last April, a Mexican-born steel framer climbed to the top to hang his country's flag in protest of Trump's campaign rhetoric bashing Mexicans.

Last month, according to the Vancouver Sun, the board representing residential units in the building voted to increase its insurance coverage for terrorism.

To Russia with love: Trump's dreams of Kremlin might

Meanwhile, a survey released to coincide with the tower's grand opening found significant support among Canadians for a boycott of Trump products.

Two in five respondents said they would boycott hotels, restaurants or stores that sell Trump wares. That percentage jumps to three in five in westernmost British Columbia province.
COMMENTS
Comments are moderated and generally will be posted if they are on-topic and not abusive.
For more information, please see our Comments FAQ