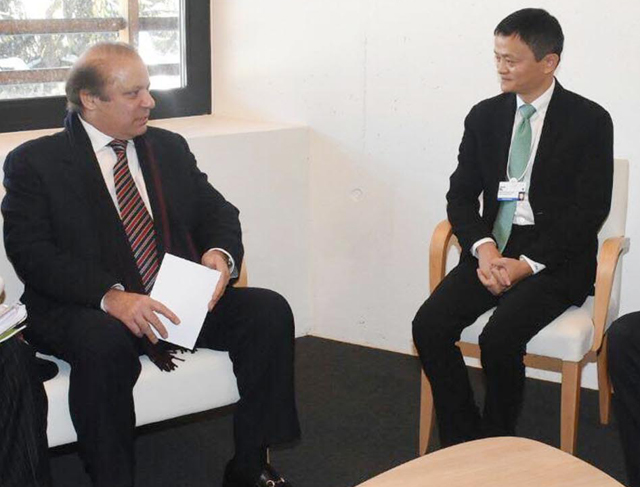 ---
Ever since Jack Ma's Alibaba took control of Lazada in a $1 billion deal last year, there's been speculation about what the ecommerce titan might do next.

I think the natural choice is Daraz, an online store for Pakistan, Bangladesh, Myanmar, and Sri Lanka, which encompasses a combined market worth $610 billion. Like Lazada, Daraz is born out of the Rocket Internet empire.

So far the Chinese billionaire has played his cards close to his chest about what comes after the Lazada deal for Southeast Asia. He's preferring to impart "ecommerce training" to thousands of small businesses spread across Lazada's six countries.

He's also reportedly excited at the prospect of sharing knowledge with Lazada's management, which fits in with his wider vision of using Alibaba to sell directly to consumers – slashing costs and eliminating the cut any shady middlemen might be pocketing.

China's Alibaba expresses interest in Pakistan's e-commerce sector

But that's easier said than done. Trade across much of Asia is riddled with bottlenecks such as potholed roads, decrepit railways, inefficient logistics, and quirky customs processes. If Alibaba and its Taobao and Tmall marketplaces are really to act as the engine for consumer purchases in this region, then they'll need to figure out a lasting solution.

And it's not like Jack Ma doesn't want to expand his business. Ant Financial, his mobile wallet app, has made investments in India, Thailand, South Korea, and the Philippines. It also bought US-based remittance company Moneygram for a cool $880 million.

Anecdotal evidence seems to suggest that Ma wants to make it extremely easy for consumers to have access to millions of products and pay for them via their phones. And while he's not completely there yet, the broader vision is to muscle out Amazon without the need to physically enter markets from scratch.

So whats the next step?

Here's how acquiring Daraz fits in.

First, Chinese companies aren't averse to following their government's lead. McKinsey notes that "government policy continues to be the critical shaping force" of the economy, with the state "possessing levers" to dictate the pace of economic growth.

The government's pivot to Africa is now several years old. Large Chinese firms specializing in energy, construction, and logistics signed a mammoth $70 billion worth of contracts in Africa in 2014 alone. Followed closely by this was phone maker and telecommunications firm Huawei, which set up a training school in Nigeria in an effort to hone the skills of engineers and strengthen cellphone networks across the continent.

But now China's embarking on a much more ambitious project through which it wants to establish itself as the central hub of global trade. Dubbed "One Belt, One Road", the project aims to build road and railway links from Chinese industrial hubs to European capitals via Central and South Asia. It's like a new Silk Road.

Alibaba testing Pakistan's e-commerce market

Overall, the project, first announced by President Xi Jinping in 2013, will span approximately 65 countries that account for one-third of the world's GDP and about a quarter of all the goods and services consumed. The Chinese have committed to spend hundreds of billions of dollars to make this a reality, and work is moving forward rapidly.

An important part of this new Silk Road is Chinese investment in Pakistan, Bangladesh, Myanmar, and Sri Lanka. In Pakistan, the Chinese government has committed to spending north of $50 billion in improving logistics, power generation, communication links, hospitals, and schools. The cornerstone of their effort is access to a deep water port in the southwestern city of Gwadar.

The port, already operational, gives China access to shipping lanes in the Indian Ocean – bypassing their traditional routes via the Straits of Malacca and the South China Sea. The move is important both for strategic and business reasons – shipping corridors in the densely-populated Straits of Malacca are closely watched by the US Navy and the Chinese are desperate to open up alternatives.

In Sri Lanka, the Chinese have already built Hambantota port near Colombo to further integrate logistics and secure shipping lanes. Bangladesh formally joined the Belt and Road Initiative in October, after President Xi visited Dhaka to sign a number of agreements in energy, industrial capacity, information technology, and maritime cooperation.

Part of the reason the Chinese government wants to step ahead with this program is access to new markets and utilization of excess domestic industrial capacity. For China to move away from an export-oriented economy towards a service and consumption-oriented one, similar to that of the US, it'll need access to cheaper labor and modes of production.

Nowhere is that dynamic more prevalent than the frontier markets of Asia.

Where does Jack Ma fit in?

Part of the reason for Alibaba's success has been the fact that entire Chinese villages have jumped onto the ecommerce bandwagon, helping them escape poverty by selling everything from electronics to toys.

In 2013, Taobao was the 12th most visited site on the internet and sold US$145 billion worth of goods, dwarfing Amazon's $88 billion. Sales on Alibaba's marketplaces rose to $430 billion in 2015; no comparable Amazon data is available.

Rocket Internet sells Foodpanda

China's ecommerce market is huge, yet it only accounts for 11 percent of total retail sales which means it won't stagnate anytime soon. But there's also a tantalizing opportunity to sell goods to the globe – and the new Silk Road initiative means this is more of a reality than ever before.

Lurking in these frontier markets of Pakistan, Bangladesh, Myanmar, and Sri Lanka is Daraz. Alibaba officially doesn't have a presence in these countries yet – they're serviced by AliExpress, but that's about it. But Daraz isn't letting that prevent it from sourcing Chinese products to sell on its marketplace.

Bjarke Mikkelsen, CEO of Daraz Group, refutes rumors swirling in Pakistan's tech industry of Alibaba's interest in acquiring the company, but admits to Tech in Asia they're "constantly in touch with friends in Lazada." He's also spending more and more of his time in China to figure out what products would appeal to local consumers in his markets.

Daraz also recently hired Zain Suharwardy, previously a senior Lazada VP based out of Malaysia, to look after its operations in Pakistan. Bjarke hinted that the move gives him breathing space and the bandwidth to step away from day-to-day operational decisions to concentrate on overall strategy and growth.

Germany-based Rocket Internet made Daraz into one brand across its four nations after the acquisition of Lazada. Did the Samwers foresee a scenario where its smaller ecommerce arm would also come onto Alibaba's radar? Don't bet against it.

Another hint of Alibaba's widening net came in January when Jack Ma met Nawaz Sharif, Pakistan's Prime Minister, on the sidelines of the World Economic Forum in Davos.

During the meeting, Ma reaffirmed his desire to help small businesses in developing countries and added that executives from his firm were closely monitoring progress in Pakistan's ecommerce space.

He even declared they're ready to make a firm investment in the country, which traditionally has been very closely aligned with China.

Can the deal happen?

Buying Daraz Group would be chump change for the likes of Alibaba. Unlike Lazada, which raised hundreds of millions of dollars from investors such as Temasek, Daraz has publicly announced only one investment round so far – $55 million from UK's CDC Group.

If Jack Ma does decide to buy Daraz, it's likely the value of the transaction would probably be in the range of $100 to $150 million. That's a far cry from the US$1 billion for Lazada.

Daraz could be a significant coup for the self-made billionaire. With one swipe of his pen, he would have access to markets that are firmly on the priority list of his government. That's a good way to maintain close ties with Chinese bureaucrats – and it makes business sense too.

Pakistan, Bangladesh, Sri Lanka, and Myanmar have a combined population of about 450 million – that's larger than Lazada's markets. They're also rapidly growing economies, part of what Barrons calls the "quiet rise of South Asia".

The opportunity for Alibaba to upsell its products and take advantage of the Chinese government's fervent desire to improve transport linkages is very real. At the same time, Chinese shoppers can benefit from a wider variety of goods manufactured in countries along the new continental industrial belt.

As China accelerates its shift towards a consumption-driven economy, demand for such goods is likely to pick up. Alibaba would be poised to grab that share too.

China's total trade with the countries along the One Belt, One Road initiative exceeded US$1 trillion in 2015. It would be foolish to think that Jack Ma doesn't already have his eyes on a slice of that pie.

This article originally appeared on Tech in Asia.
COMMENTS (2)
Comments are moderated and generally will be posted if they are on-topic and not abusive.
For more information, please see our Comments FAQ