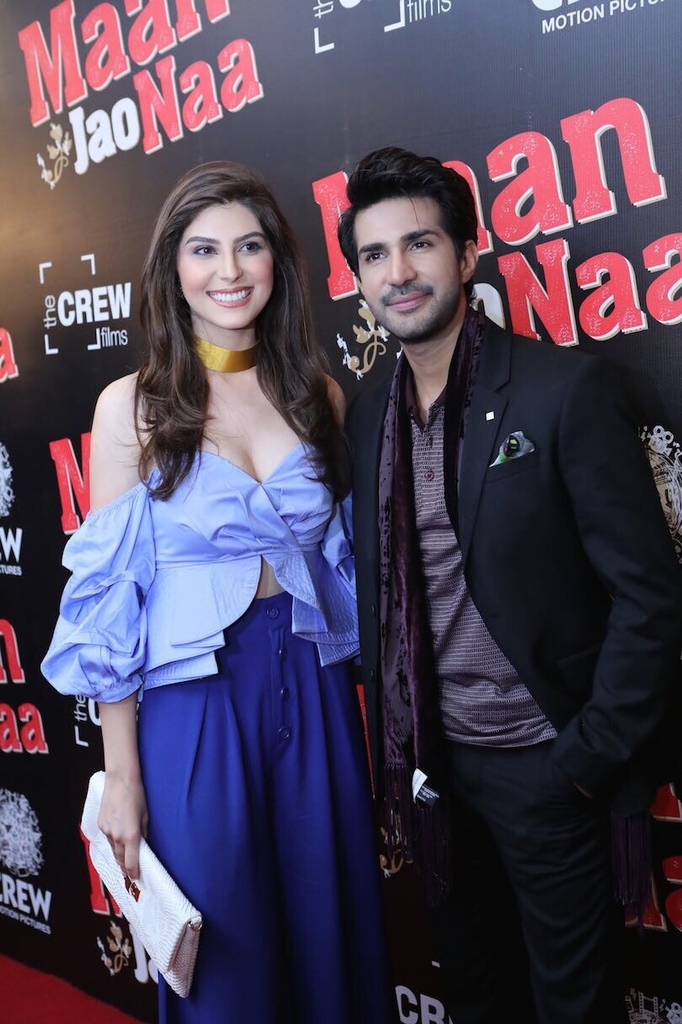 ---
KARACHI: In this current phase of Pakistani cinema, there are only a chosen number of actors the film-makers rely on. They are the same on our television screens as well as in cinemas. While it may help in increasing their fan base and making them bigger stars, it also results in overexposure, doing exactly what it was not supposed to do: damage their stardom.

It is perhaps for these reasons that we need fresh faces in our film industry, which, down the road, would create a much-needed divide in the television and cinema fraternity. For now, we can call it a good start that Iranian supermodel Naaz Norouzi is set to grace our silver screen. She will be seen alongside Adeel Chaudhary in Maan Jao Na, which is planned for release in the third quarter of this year.




Norouzi is of Iranian descent but was brought up in Germany, and speaks multiple languages such as Persian, English, German, French, and Hindi. Having travelled across Asia and Europe, she has worked in high profile ads, including working with A-list Bollywood actor Salman Khan as well as walked the ramp for brands such as Dior, Hugo Boss and L'Oréal. She has also trained in Persian dancing. While she aims to be a Bollywood actor and is currently working on a Bollywood film as well (which she kept mum about), Maan Jao Na will mark her first venture into films.

Maya Ali to star in Ali Zafar's Pakistani film debut




In the film, she plays the character of Raania. Norouzi said the whole film revolves around her. "Raania is a young girl, who has been traumatised because her aunt has been in a bad relationship and marriage. So, she thinks having no love and marriage is better and she wants to stay out of it. She doesn't want to be in love." She told The Express Tribune that Raania's character was similar to her own. "It's very close to Naaz because she's young, sweet and carefree."

Norouzi said that despite her roots in Germany and Iran, she never wanted to work in their cinema. "I grew up watching Indian cinema and despite modelling since the age of 15, what I always wanted to do was acting. My dream of being a Bollywood actress was always there."




She shared she was cast for the Aabis Raza directorial in Mumbai. "Mukesh Chhabra is our casting director. I got this offer and I got to know it's a Pakistani movie. At first, I was very hesitant because of what's been going on between the two countries," she said," But it wasn't only that. It was also because you don't know the industry. You don't know how it's going to be. Then I'm always open for new things so I thought let's go for it."

Norouzi said she didn't know about Crew Films or the team before she signed the project and had only briefly met Chaudhary. "But when I read the script, it was nice and cute and very youthful."




Did Taher Shah just make his acting debut?

She was all praises for the team and the director as well. "I believe, no matter how good the story and actors, if you don't have a good director, it won't work. And we have an amazing director on board."

As far as her acting prowess goes, it might still be too early to judge. Regardless, discussing her pre-shoot rituals, she said she found it important to have memories. "I always feel you need memories to get into the zone. Real life memories. If you don't have that, then you have to work and connect to the moment in a way."




The film, which will also feature a special appearance by comedian Ali Gul Pir, is written by Ahsan Raza and Asma Nabeel, the latter of which also serves as the executive producer. The romantic comedy film has completed 70% of its production and all, except two songs which will be shot in the end of March, will be completed within a week. It is mostly shot in Karachi, with only a few parts in Sukkur. Because of this, the debutante has not been able to travel around much. "I have only been in Karachi but when I come back, I will travel to other cities of the country. But I'm very impressed with Karachi, because it's better than what we hear about all the time," she said, adding she's a big foodie and absolutely loved the food in Karachi.




When asked if she'd be interested in working in more Pakistani projects, she said, "I'd love to. If there are any good projects coming my way, why not?"

Have something to add to the story? Share it in the comments below. 
COMMENTS (9)
Comments are moderated and generally will be posted if they are on-topic and not abusive.
For more information, please see our Comments FAQ