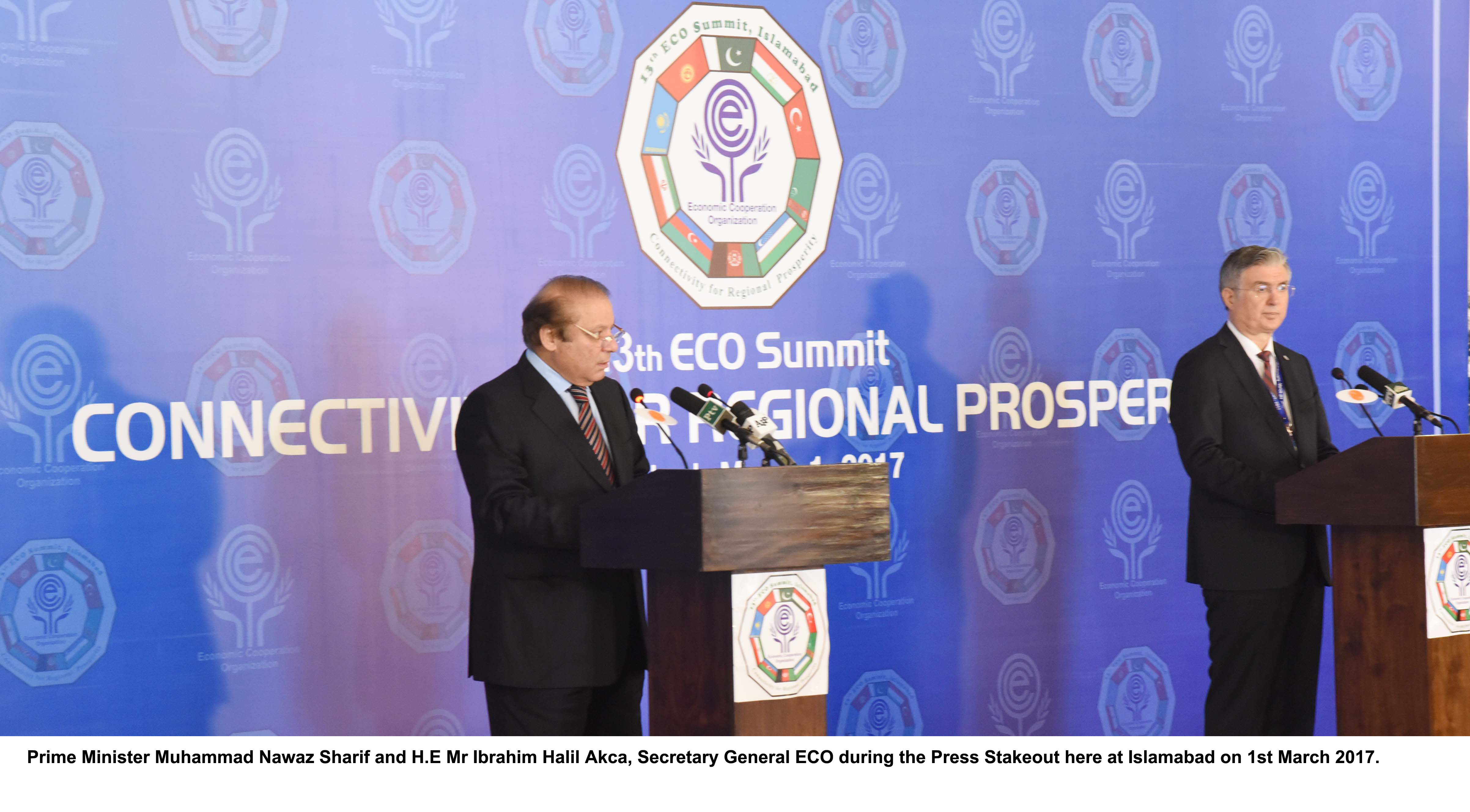 ---
ISLAMABAD: Members of the Economic Cooperation Organisation (ECO) have expressed determination to face regional challenges, including terrorism and drug trafficking collectively.

Members resolved for "collective determination to face regional challenges together, such as extremism, terrorism and drug trafficking and address unresolved conflicts, to make the region a zone of peace and prosperity," a statement issued by the Ministry of Foreign Affairs said on Wednesday.

However, it did not specifically mention the Kashmir dispute and its resolution as per the aspersions of Kashmiris and in the light of UN Charter.

All the 10 member states, including Pakistan, Iran, Turkey, Azerbaijan, Turkmenistan, Uzbekistan, Tajikistan, Kyrgyzstan, Kazakhstan and Afghanistan, participated in the summit held in Islamabad.

Leaders including Turkish President Recep Tayyip Erdogan and Iraninan President Hassan Rouhani, among other heads of states and governments, attended the conference.

PM Nawaz Sharif, who was elected as the chairman of the summit, highlighted the region's importance and appreciated ECO's performance in various fields.




He reiterated the commitment of Pakistan government to the organisation's objectives, and expressed the hope that progress towards regional integration would be further accelerated.

According to the statement, the members underscored the need for expansion of cooperation, and reaffirmed their support to the goals and objectives of the organisation.

Afghan foreign minister skips ECO meeting amid rising tensions

The Summit, the communiqué added, adopted the Islamabad Declaration 2017 that represents the members' collective political will to focus on connectivity of energy, infrastructure, transport, and trade for regional prosperity. The need to address common regional challenges such as climate change, and easing people-to-people contact, as well as revive and rebuild historical connections and promote regional tourism, were among the major takeaways of the meet.



"The[y] also reviewed the performance of the ECO, the progress made since the Baku Summit in 2012, and underlined the challenges and opportunities lying ahead, giving directions to pace up progress in various sectors."

ECO Awards 2017 were also conferred on nationals of the member states. The awards were given in the field of economics, history, culture and fine arts, science and technology, education, agriculture and environment.

Even though the over 2500-word declaration sounded more of a generalised document, importance is being attached to the conduct of the summit in Islamabad, days after a series of terror attacks across the country, which killed over 100 people.

Meanwhile, Afghanistan's decision not to boycott the event in the backdrop of escalated tension between the two neighbouring states is also being seen as Pakistan's diplomatic success.
COMMENTS (7)
Comments are moderated and generally will be posted if they are on-topic and not abusive.
For more information, please see our Comments FAQ