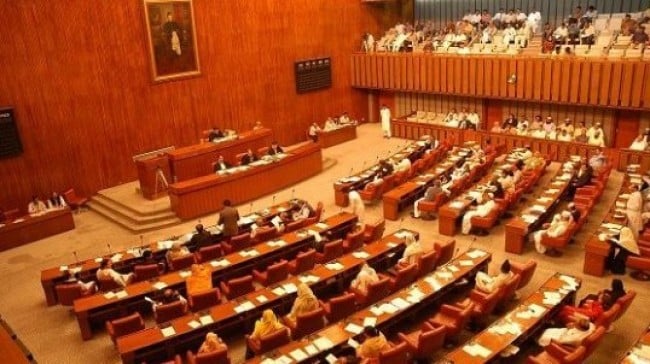 ---
ISLAMABAD: The Senate on Friday continued to debate President Asif Ali Zardari's April 5 address to the Parliament.

Senator Professor Khursheed Ahmed of the Jamaat-i-Islami said that the president's address to the Parliament sounded less like a presidential speech and more like a commentary by the co-Chairman of the Pakistan People's Party (PPP). Calling the current government's performance below average, he said that corruption had increased in this government's tenure and spending on education had been slashed.

Ahmed said that inflation was rising and prices of commodities had increased because the government had accepted the dictation of the International Monetary Fund (IMF). He also alleged that the agreed draft of the National Finance Commission (NFC) award had been changed. Meanwhile, Senator Dr Saeeda Iqbal from the PPP appreciated President Zardari's address and urged fellow parliamentarians to understand the difficulties being faced by the government, despite which a number of goals had been achieved. She listed the NFC Award, the 18th amendment, provincial status for Gilgit- Baltistan and victory over the Taliban in Malakand as some of the major successes of the government.

Senator Tahir Hussain Mashhadi from the Muttahida Qaumi Movement (MQM) said that those power plants of the Karachi Electric Supply Company (KESC) that were run using furnace oil had been shut down. He said that the disruption would result in 18-hourlong power outages, causing unemployment and as a result, possible riots. He asked the government to address the issue of power shortages in Karachi to save the industrial sector from severe damage.

Senator Haji Adeel of the Awami National Party (ANP) demanded that Net Hydel Power Profit must be paid to Khyber-Pakhtunkhwa. He said that the centre owed Khyber- Pakhtunkhwa Rs105 billion but Dr Sheikh was not ready to talk to the provincial government.

Published in the Express Tribune, May 16, 2010.
COMMENTS
Comments are moderated and generally will be posted if they are on-topic and not abusive.
For more information, please see our Comments FAQ