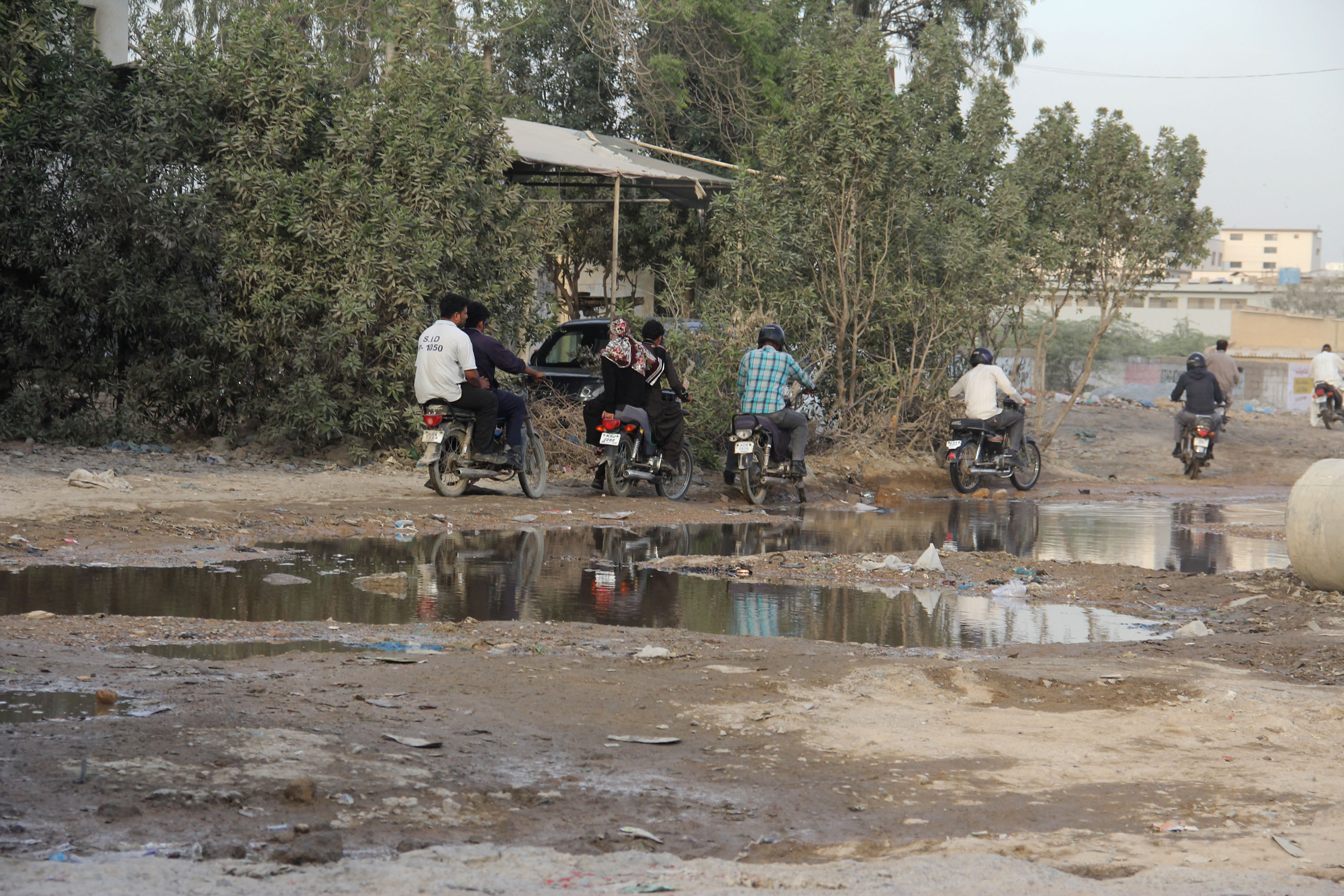 ---
KARACHI: Even though Korangi and SITE areas of the city contribute the major portion of Karachi's revenue, the government has failed to improve the dilapidated roads and infrastructure in these areas.

The government's apathy towards improving these industrial zones shows that the authorities are least interested in spending budget in these areas. Korangi Industrial Area road, near Vita Chowrangi, is one such example of the government's negligence, as the road is always inundated with sewerage water.

Welcome to Karachi, the city of rundown roads

Another six-lane road, also known as Korangi 7000 Road, which is adjacent to Vita Chowrangi depicts the picture of a hilly area, as if the road was never laid here. The median between the roads has been encroached by sand and gravel mafia, where they park their trucks. Heavy machinery, including bulldozers and crane, are also parked here for rent out purposes.




Various industries are situated along the Korangi 7000 Road, which are paying billions of rupees as taxes. However, one might prefer to use an off-road vehicle to reach these industries because of the dilapidated road.

Speaking about their efforts of approaching government institutions to improve infrastructure in Korangi Industrial Area, Korangi Association of Trade and Industry president Masood Naqi claimed that the government's response has always been disappointing.

He added that during a meeting few months ago, the chief minister assured them that he will focus on improving infrastructure of Korangi. However, the staff that is supposed to perform the task is lazy, Naqi said. Whoever it is, the bureaucracy or municipal authorities, they don't do their jobs properly, he added.

Paved roads in Sukkur still a distant dream for residents

Naqi was of the opinion that Karachi has a major role in contributing in country's revenue, while Korangi provides the lion's share in it because it's the biggest industrial zone with most number of factories and highest rate of employment. He claimed that on average they pay around 300 million of tax on a daily basis, however, there is no return in terms of infrastructure development.




The problem is usually with the sewerage lines beneath the roads that keep bursting and the nullah nearby that keeps overflowing, Naqi said. He added that although the law and order condition is comparatively better these days, the dilapidated roads slow down the flow of traffic, providing an opportunity to criminals to commit crimes.

Naqi said the police usually remove the encroachments but the encroachers always come back after a few days. He said they have asked the authorities to restore this road and convert the median into green belt.

A truck driver Razaq Shah, who had parked his truck on the median, claimed that they have never been removed from here. He was of the opinion that no one should remove them because they are earning their livelihood from here. Referring to the roads, he said that they are in poor condition since past two years.




Speaking to The Express Tribune, Korangi District Municipal Corporation chairman Nayyar Raza claimed that the work on this road is in the pipeline. According to him, work on the nullah, which usually over flows, is also in process and it is expected that after the work is completed, flow of sewerage water in the drainage will improve, after which they will begin working on the road again. He added that the work on this nullah is being done by Karachi Metropolitan Corporation (KMC).

While referring to gravel and sand mafias, Raza said he will discuss about it with higher authorities. Karachi Water and Sewerage Board superintendent engineer Saeed Sheikh said that work for replacing the old sewerage lines is in process, while for KMC has started working on the nullah.

KMC technical director-general Shahab Anwar, who is responsible for construction of the roads and nullah, did not respond to the calls, despite repeated attempts.
COMMENTS
Comments are moderated and generally will be posted if they are on-topic and not abusive.
For more information, please see our Comments FAQ