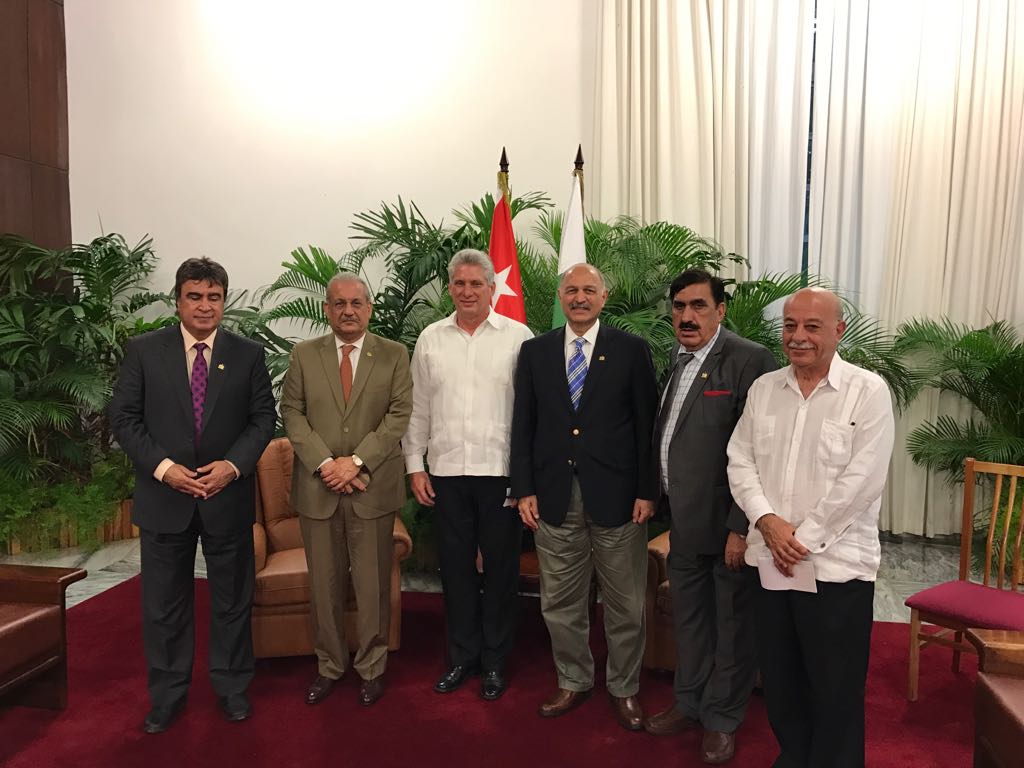 ---
Senate Chairman Mian Raza Rabbani on Tuesday called for the promotion of parliamentary cooperation, exchange of delegations and information between the Senate of Pakistan and the Cuban National Assembly.

He also urged the need for enhancing economic, social and political relations between the two countries, according to a press statement received on Tuesday.

The Senate chairman also invited the president of the Cuban National Assembly to visit Pakistan as a guest of the Senate of Pakistan.

He expressed these views during a meeting with the President of National Assembly of the People's Power of Cuba, Deputy Esteban Lazo Hernandez in Havana.

He thanked the Cuban government for offering 1,200 scholarships to Pakistani doctors and acknowledged Cuban medical help to Pakistan during disasters.

US visit called off after Senate deputy chairman denied visa

"Cuba and Pakistan are true friends who stood by each other in every difficult time. Cuban medical squad always played a leading role in voluntary services," the Senate chairman said.

Rabbani emphasised the need for chalking out a global peace plan.

The Senate chairman is on an official visit to Cuba heading a parliamentary delegation comprising parliamentarians including senators Mushahid Hussain Syed, Dr Jehanzeb Jamaldini, Shahi Syed, Lt Gen (retd) Salahuddin Tirimzi, Gianchand, Mohsin Aziz, Nisar Muhammad Khan and Senate Secretary Amjed Pervez Malik.

The chairman said it was a great pleasure to be in Cuba, especially in the beautiful city of Havana.

He said he was looking forward to this visit which could not take place last year.        He was eager and hopeful to meet Commander-in-Chief Dr Fidel Castro Ruz.

He eulogised the services of great revolutionary leader late Fidel Castro for upholding national interests and welfare of the people.

Rabbani said three leading lessons of Fidel Castro principles -- including resilience against super powers, safeguarding national interest and welfare of masses -- would be the model of change for the world.

The chairman said the Pakistani nation felt the pain of Cuban people who not only lost a great leader but also a father, friend and comrade who changed their lives.

He said the Cuban leader was a ray of hope for the poor who gave a direction to suppressed, down-trodden and exploited people to live their life with dignity and fight for their rights rather than giving up before their unjust supremacy.

The Senate chairman said great revolutionary leader Fidel Castro was the last one among the leaders who change the world with his principles and ideology.