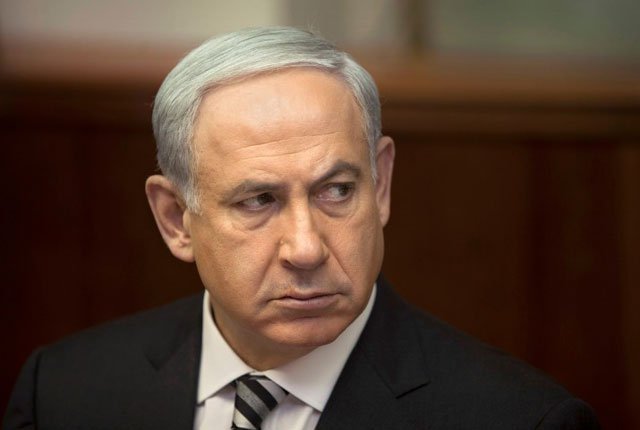 ---
WASHINGTON DC:


Israeli Prime Minister Benjamin Netanyahu appeared on the defensive ahead of a report Tuesday expected to criticise him and military leaders for insufficiently preparing for attack tunnels in the 2014 Gaza war.

The findings of a two-year inquiry by state comptroller Yosef Shapira are widely expected to fault Netanyahu, then-defence minister Moshe Yaalon and former army chief of staff Benny Gantz for poor preparation despite intelligence warnings.


The report, due to be released at 1400 GMT, is expected to say that Israel's cabinet was insufficiently briefed on the threat posed by tunnels dug into southern Israel by Hamas, the group that runs Gaza.
Destroying the tunnels and stopping Gaza-based Palestinian militants launching rockets into Israel were the key declared goals of Israel's third offensive in the coastal territory in six years.
Benjamin Netanyahu becomes first Israeli PM to make historic Asia trip
The tunnels were among the Palestinians' most effective weapons during the conflict, some used by militants to infiltrate Israel and carry out deadly attacks there, others used to surprise Israeli forces inside Gaza.
This lack of planning left Israeli soldiers to face a major threat without a specific plan, the 200-page report compiled by Shapira - who is in charge of assessing governance and use of public funds - is expected to conclude.
Netanyahu has frequently denied such claims, saying he regularly briefed colleagues on the situation.
Speaking to his party ahead of the report's release, Netanyahu accused Shapira of not supporting the army. "As opposed to the state comptroller's report, I support the heads of the army," he said. "The truly important lessons aren't located in the state comptroller's report, and we apply them without declarations and statements to the media."
Netanyahu denounces Iran missile test ahead of Trump meeting
Analysts will be looking to see what effect, if any, the report has on Netanyahu's right-wing governing coalition.
But Avraham Diskin, a political scientist from Jerusalem's Hebrew University, said he did not expect any major political upheaval or resignations, noting that such inquiries rarely have dramatic long-term impacts. "The report won't cause an earthquake," he said.
During the July-August 2014 war, 74 Israelis died, 68 of them soldiers. According to the United Nations, 2,251 Palestinian were killed.
Shapira launched the probe almost immediately after the 50-day conflict. Maariv columnist Ben Caspit said Netanyahu's remarks constituted "incitement" against the state comptroller. Shapira's report was "an important, in-depth and serious document," he wrote.
A "reasonable" prime minister, he added, would have accepted that while the war achieved many of its objectives of weakening Hamas, "at the same time, there obviously were flaws."
The fallout is likely to pit Netanyahu against coalition partner and political rival Naftali Bennett, head of the right-wing Jewish Home party.
Bennett has said that he and fellow members of the security cabinet were not properly briefed by Netanyahu on the tunnel threat.
Yair Lapid, another political opponent who was in the 2014 security cabinet, has also criticised Netanyahu's alleged lack of planning.
Israel's military found 32 tunnels, including 14 from the Gaza Strip into Israel, according to a UN inquiry on the war. Hamas says it has continued to dig new ones.
The ceasefire between Israel and Hamas continues to be fractious.
In the latest flare up on Monday, a rocket fired from Gaza hit southern Israel without causing any damage. The army retaliated by bombing Hamas targets in the Palestinian enclave.