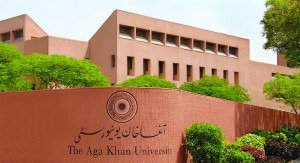 ---
KARACHI: Pakistan now has a laboratories network of international repute.

The College of American Pathologists (CAP), an internationally recognised standard for clinical laboratories, has accredited the Aga Khan University Hospital's (AKUH) Clinical Laboratories, making it the first lab in Pakistan to receive this status.

Talking about the milestone achievement, the university hospital's CEO, Hans Kedzierski, stressed that clinical laboratory testing is an essential part of a good quality healthcare service. "Since most of the decisions regarding a patient's diagnosis and treatment are usually based on laboratory test results, this means timely and more accurate diagnosis would be [ensured]," he maintained.

Stepping into reality: Aga Khan University bids farewell to 383 proud graduates

During a media briefing after a laboratory tour of the facility, he said that striving to meet patient satisfaction drives the hospital to constantly review itself for improvements every day. He further emphasised that AKUH is the first institute in the region that has raised the bar for health care provision. "AKUH is dedicated in providing First-World quality in the Third World through its mission of provision of exemplary care," said Kedzierski. "Validation of our practices through international accreditation gives patients the assurance that [our] standards match the best in the world."

The CAP accreditation is an attestation that AKUH Clinical Laboratories have achieved the gold standard in laboratory medicine, said chief operating officer of clinical laboratories and outreach services, Shagufta Hassan. She further added that 10 million tests were performed at the facility in 2016 alone, for which samples were also received from Afghanistan and Africa.

According to her, AKUH Clinical Laboratories form the largest laboratory network in Pakistan besides being the main clinical laboratory in Karachi. Talking to the media, Hassan said they have 250 regional laboratories, medical centres and specimen collection units in over 100 cities around the country.

AKU student commits suicide in same room as 2010 case

With a highly trained team of over 50 faculty members and 250 technologists, supported by state-of-the-art automated equipment, the laboratories offer over 700 types of testing, said Hassan, adding that they take care of pre-analytical, analytical and post-analytical phases of training.

"I would like to congratulate Aga Khan University Hospital for being the first CAP accredited laboratory in Pakistan," said CAP President Richard C Friedberg in his video message to the hospital community. He added that they are certain that the benefits of their accreditation and AKUH's continual desire to improve their services, performance, accuracy, reliability and precision will benefit the patients in Pakistan.

"We are committed to the delivery of accurate results for our patients by providing highest levels of quality, service standards and transparency," said Dr Farooq Ghani, the service line chief of the Clinical Laboratories.

Maternal and children health: AKU receives $25m grant by Gates Foundation

The US federal government recognises the CAP Laboratory Accreditation Program, which began in the early 1960s, as equal to or more stringent than the US government's own inspection programme.

As the leading organisation with more than 18,000 board-certified pathologists, CAP serves patients, pathologists and the public by fostering and advocating excellence in the practice of pathology and laboratory medicine worldwide. The CAP's Laboratory Improvement Programs, initiated 65 years ago, currently have presence in more than 100 countries, accrediting nearly 8,000 laboratories and providing proficiency testing to 20,000 laboratories worldwide.

The chairperson of the department of pathology and laboratory medicine at AKUH, Dr Aafia Zafar, also hinted that they have currently been in a process of validating the tests from recognised international labs for viruses such as Chikungunya and the laboratory will soon start taking samples for the purpose.
COMMENTS
Comments are moderated and generally will be posted if they are on-topic and not abusive.
For more information, please see our Comments FAQ