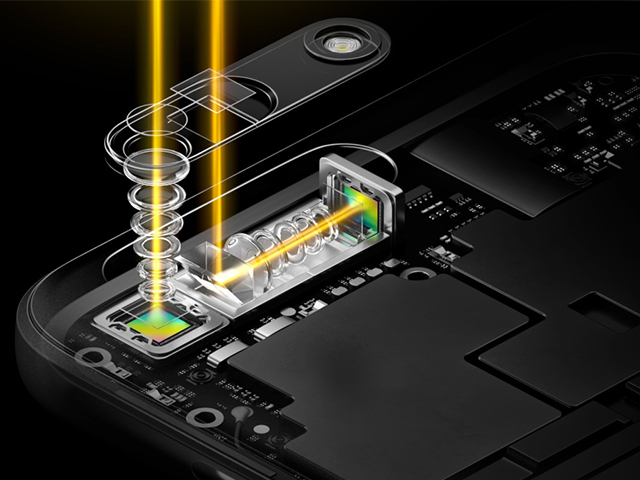 ---
Barcelona, 27 February 2017 – OPPO, a leader in mobile photography, today gave Mobile World Congress (MWC) 2017 audiences the first exclusive glimpse of the groundbreaking "5x Dual Camera Zoom" technology, the world's first periscope-style dual-camera technology for smartphones.

The technology offers 5x lossless zoom capability on a smartphone, a breakthrough innovation that sets the bar higher when compared to the 2x zoom functions available in the market today. Users will also enjoy an image stabilization capability like never before while keeping the device thin and sleek.

OPPO worked for almost a year to develop the revolutionary periscope-styled dual-camera technology. Currently, more than 50 patents have been filed for this technology.

Sky Li, OPPO Vice President and Managing Director of International Mobile Business, said, "The '5x Dual Camera Zoom' has opened up yet another realm of possibility in terms of smartphone photography, and is a reflection of our dedication to delivering on what our customers want and need - to take beautiful and clear pictures".

The Innovation behind the "5x Dual-Camera Zoom"

The "5x Dual Camera Zoom" technology was inspired by the idea of a periscope on a submarine. The dual camera utilizes wide-angle and telephoto lenses, and the housing for the telephoto lens uses an innovative periscope-style structure. By shifting the angle of the telephoto lens by 90 degrees, the lens will have the space it needs for a deep zoom. A periscope-style prism then directs the path of the light entering the camera by 90 degrees, and sends the image through the telephoto lens when the user zooms in on a subject or object.

The technology has completely re-designed the current standards of dual-camera solutions that can only achieve a 2x zoom – a feature that still disappoints many of today's demanding mobile users. OPPO strived to achieve a 5x zoom capability that will allow users to fully capture landscapes, portraits and close-ups -- all the typical scenarios that are commonly captured in a digital camera.

5x Lossless Zoom and yet Keeping the Smartphone Slim

This new dual-camera setup helps to keep a smartphone thin. The 3x optical zoom, matched with a proprietary image fusion technology for digital zoom, give users the industry's first-ever lossless 5x dual camera zoom. Thanks to the periscope-style construction, the 5x dual camera module is now only 5.7mm thick, which is even 10 percent thinner than a typical 2x optical zoom lens in a smartphone.

State-of-the-art Optical Image Stabilization (OIS) Solution




Typically, when the zoom factor increases in capturing an image, even the slightest vibrations can have a dramatic effect on the clarity of the image. The other breakthrough of this "5x Dual Camera Zoom" is the Optical Image Stabilization (OIS) solution. Different from other manufacturers who use optical image stabilization on the wide-angle lens, OPPO took a new approach and applied OIS directly to the telephoto lens.

Through the OIS technology, both the prism and telephoto lens intelligently sense vibrations and compensate in real time. The all-new OIS solution can improve the performance of previous generations by 40 percent, and the prism mechanism dynamically adjusts its angle at precise increments of 0.0025o. This technology ensures that images are clear and stable even at full 5x zoom. 

Leading The Smartphone Industry's Trends

"We are definitely putting a stake in the ground in terms of technological breakthroughs for mobile photography. The dual cameras with wide-angled and telephoto lens, together with the periscope-style construction, our image fusion technology and the Optical Image Stabilization, edges mobile photography even closer to what digital cameras are capable of doing. Our 5x Dual-Camera Zoom will again set yet another technological standard that others will emulate," Sky Li added.

Ever since entering the smartphone market, OPPO has had a singular focus on being a leader in mobile photography. OPPO aimed at solving the core demand of every user's photography needs – to capture beautiful and clear pictures.

One of the first breakthroughs was in 2012, when OPPO started the trend of beautification of selfie pictures. OPPO pioneered the concept of pre-installed beautification feature in smartphone cameras. Today, the beautification feature has become a standard configuration on almost every Android phone. OPPO also leads the selfie-imaging photography segment. In 2016, OPPO announced the 'Selfie Expert' F-series, with the flagship F1 Plus model the first device ever to pack a 16 megapixel front camera. In the same year, OPPO worked with Sony to co-develop the customized 1/2.8-inch IMX398 sensor with a big f/1.7 aperture for its R9s model.

OPPO Performing Strongly

OPPO is now the No. 1 smartphone brand in China with 16.8 percent market share, and the world's fourth best-selling smartphone brand, according to IDC. OPPO has rapidly expanded globally, totaling 28 global markets, to date.

In Southeast Asia, OPPO has risen to No. 2 in the region in a very short time period, according to IDC. In India, OPPO's share in the offline market rose from 1.2 percent in 2015 to 10.9 percent, as of December 2016, as reported by research firm GfK.



About OPPO

OPPO is a leading global technology brand dedicated to providing consumers across the Americas, Africa, Europe, Oceania, and Asia with pioneering products that never fail to inspire and excite. At OPPO we design, manufacture, and promote our own products, combining innovative technology with unique design, to ensure our customers always receive the best.
Founded in 2004, OPPO quickly proved itself in the market with its intense obsession to details. Each OPPO product encompasses a carefully selected array of attributes to specifically cater for users, combining impressive features with elegant designs. After entering the mobile phone market in 2008, OPPO quickly expanded into overseas markets a year later. OPPO mobile phones are currently available in over 20 markets, with the brand already registered in 116 countries as of April 2015. 
But OPPO doesn't stop there. Using our passion for design and commitment to new technologies, OPPO has made a big impact in the audio-visual market by offering world-renowned, premium Blu-ray players in the United States and across Europe. For more information, please visit http://www.oppo.com/en/.
COMMENTS (1)
Comments are moderated and generally will be posted if they are on-topic and not abusive.
For more information, please see our Comments FAQ