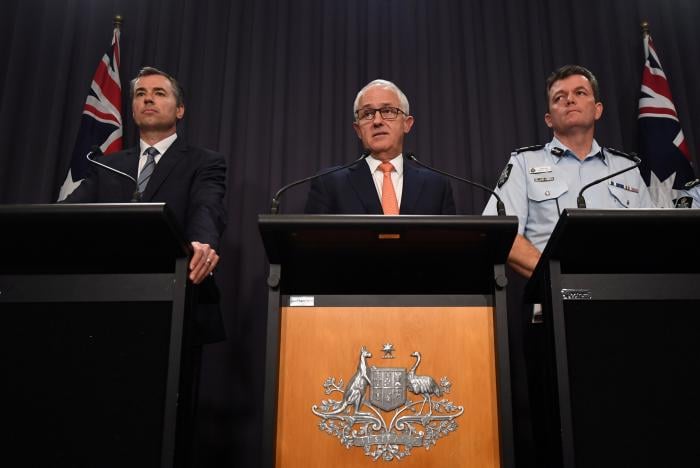 ---
SYDNEY: Australian counterterrorism police arrested an unidentified man after a raid on a countryside property on Tuesday and accused him of seeking to help the Islamic State group by developing missile technology, the first arrest of its kind in Australia.

Dozens of police, including a dog squad and some officers with metal detectors, raided a property in Young, about 270 km (170 miles) southwest of Sydney, earlier on Tuesday, pictures on Australian media showed.

Islamic State planning attacks in Britain, says watchdog

Ian McCartney, Assistant Commissioner of counter-terrorism for the Australian Federal Police, said police will allege the 42-year-old man had been advising the militant group on how to develop the technical capability to detect guided missiles and to build their own missiles.

"We will also allege that he has been researching, designing and modeling systems to assist ISIL's efforts to develop their own long-range guided missile capabilities," McCartney said, using another common term to describe Islamic State.

Other police alleged the man had been attempting to research and design a laser missile-warning device.

The Australian-born man, who was trained as an electrician, was expected to face court later on Tuesday, police said.

The Islamic State group has come under sustained attack in recent weeks from coalition air strikes, which have seen the group lose much of its foothold in Syria and Iraq.

Australian air force planes have been involved in some of those strikes against the group.

A staunch US ally, Australia also sent troops to fight in Afghanistan and Iraq and has been on heightened alert for attacks by home-grown radicals since 2014.

While authorities say they have thwarted a number of plots in recent years, particularly involving radicalize teenagers, Australia had not yet made any arrests of individuals accused of offering such technical assistance to an extremist group.

IS-linked Indonesian shot dead after bomb attack

About 100 people have left Australia for Syria to fight alongside groups such as Islamic State, Australia's immigration minister said last year.

There have also been several "lone wolf" assaults, including a 2014 cafe siege in Sydney in which two hostages and a gunman were killed, and the killing of a police accountant in 2015.